Studies in the Philosophy of Sociality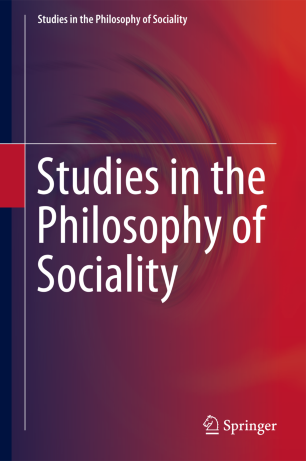 About this series
This book series publishes research devoted to the basic structures of the social world. The phenomena it focuses on range from small-scale everyday interactions to encompassing social institutions, from unintended consequences to institutional design. The unifying element is its focus on the basic constitution of these phenomena, and its aim is to provide philosophical understanding on the foundations of sociality. Studies in the Philosophy of Sociality covers the part of philosophy of the social sciences which deals with questions of social ontology, collective intentionality (e.g. collective knowledge, joint and collective action, joint mental states) and related philosophical topics. The series includes monographs and edited collections on philosophical and conceptual questions concerning social existence as well as conceptual and theoretical analyses of social notions and collective epistemology.
In principle, all phenomena dealing with sociality are covered as long as they are approached from a philosophical point of view, broadly understood. Accordingly, the works to be published in the series are generally philosophical—without regard to philosophical schools and viewpoints—and meet the highest academic and intellectual standards. However, the series is interdisciplinary not only in an intra-philosophical sense but also in the sense of encouraging high-level work from other disciplines to be submitted to the series. Others who are active in the field are political scientists, economists, sociologists, psychologists, linguists, neuroscientists, evolutionary biologists, and researchers of artificial intelligence.
The resulting interdisciplinary approach suggests new perspectives on the study of topics such as social interaction, communication, unintended consequences of action, social structures and institutions, the evolution of collective intentionality phenomena, as well as the general ontological architecture of the social world.