© 2003
Britain's Long War
British Strategy in the Northern Ireland Conflict 1969–98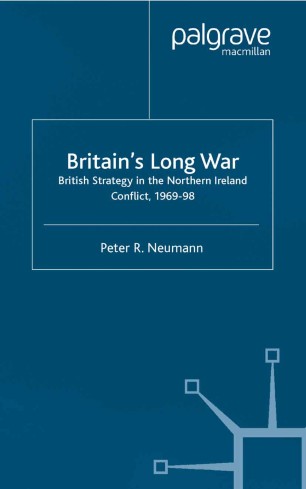 Table of contents
About this book
Introduction
Britain's Long War assesses the process of strategic change within the British Government's position on Northern Ireland, starting with Westminster's first intervention in 1969 and ending with the Belfast Agreement in 1998. Drawing on a vast range of primary sources including recently released cabinet papers, Peter Neumann analyzes the aims, strategy and restraints of British policy in Northern Ireland.
Keywords
conflict
government
intervention
strategy
war
Bibliographic information
Reviews
'[A] compelling perspective [that] does significantly advance our knowledge of that curiously neglected subject of political research, British Government policy in Northern Ireland. Neumann's strategic analysis is valuable because it helps us to make sense of the way policy-makers tried to develop a coherent approach to the Northern Ireland question.' - Arthur Aughey, School of History, Philosophy and Politics, University of Ulster
'By adopting the methods of strategic analysis this book cuts through the
fog of prejudice that afflicts many standard accounts of Northern Ireland. [It] shows convincingly that if any actor can lay claim to having successfully achieved its objectives during thirty years of crisis, then it is probably the British government. This book is essential for anyone who wants to understand the logic of what London has done over the past three decades.' - M.L.R. Smith, Reader in War Studies, King's College, University of London.
'One of the strengths of Neumann's book is the material he has gleaned from interviews with an impressively wide range of Northern Ireland Office ministers and civil servants.' - Times Literary Supplement