© 2016
The Four Faces of the Republican Party
The Fight for the 2016 Presidential Nomination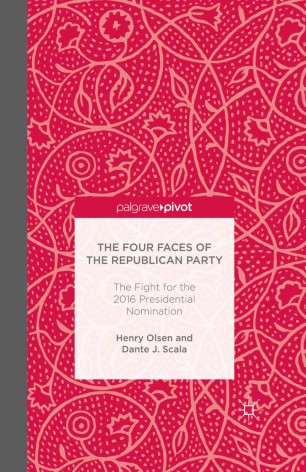 About this book
Introduction
The Four Faces of the Republican Party clearly describes how Republican Presidential nominating contests unfold. Its focus on party factions allows readers to understand the process and to predict who the eventual nominee will be. In particular, the authors explore why a conservative party always nominates candidates favored by the party's establishment and why evangelical conservatives always emerge as one of the two final contenders for the nomination. This book is essential reading for anyone – professor, student, journalist, consultant, or candidate – who wishes to understand, report on, or influence a Republican Presidential nomination contest.

Keywords
2016
GOP2016
Republican
Presidential
nomination
conservative
Romney
McCain
Bush
Trump
Rubio
Walker
Carson
Huckabee
Kasich
Cruz
Paul
libertarian
evangelical
Iowa
Bibliographic information
Book Title

The Four Faces of the Republican Party

Book Subtitle

The Fight for the 2016 Presidential Nomination

Authors

DOI

https://doi.org/10.1057/9781137577535

Copyright Information

The Editor(s) (if applicable) and The Author(s)

2016

Publisher Name

Palgrave Macmillan, London

eBook Packages

Political Science and International Studies Political Science and International Studies (R0)

Hardcover ISBN

978-1-137-57748-1

Softcover ISBN

978-1-349-72055-2

eBook ISBN

978-1-137-57753-5

Edition Number

1

Number of Pages

XII, 163

Number of Illustrations

0 b/w illustrations, 0 illustrations in colour
Reviews
"This book should be of interest to ecotourism operators, government policy-makers, and students from a wide range of disciplines who conduct research in nature-based tourism settings. I would also recommend it to travelers intending to visit such destinations. Although the book's contents may appear highly specialized, complex topics are explained in an accessible manner. … this book is an excellent guide to minimizing ecotourism's potential negative effects on animals." (Rie Usui, Tourism Geographies, Vol. 20 (5), 2018)
"The race for the 2016 Republican presidential nomination promises to be the wildest and most unpredictable ever. To make sense of the different brands of Republican voters, there is no better guide than Olsen and Scala's The Four Faces of the Republican Party. A must-read for political junkies in this turbulent election cycle." - Michael Barone, senior Political Analyst, Washington Examiner; Resident Fellow, American Enterprise Institute; and the co-author of The Almanac of American Politics (1972)
"In this incisive and deeply researched analysis, Olsen and Scala persuasively argue that the key to winning the Republican presidential nomination in the modern primary era is not so much money, or momentum, or even the tap on the shoulder from party leaders, but the ability to consolidate support from across the party's four distinct factions of voters through victories in the first contests on the calendar. In a campaign defined by constant polling, breathless media coverage, and rapid shifts in conventional wisdom, Olsen and Scala's careful focus on the distinct patterns that have shaped every recent GOP nominating contest offers a better guide to how this tumultuous race may actually unfold than almost all of the punditry flying across the airwaves and the internet. From voters to political pros to journalists, anyone with an interest in the outcome of the GOP contest will benefit from their sharp examination of the key fault lines in the Republican electorate-and their surprising assessment of which faction is most likely to decide the winner in this boisterous contest." - Ronald Brownstein, Atlantic Media
"The early primary season is always an unpredictable and fluid time. Strong candidates flame out, unknown candidates rise up, and the polls seem to bounce all over the place. This year, however, has felt more unstable than ever. Yet, as scholars Dante Scala and Henry Olsen have outlined in this important book, there is an actual method and predictability in this madness and that the GOP presidential electorate is remarkably stable. Scala and Olsen, through exhaustive research into GOP primary voting behavior over the last three open primaries, find that ideology - more than any other factor - is the biggest driver of the vote. Based on their research, I know that I will be looking most closely at which candidate is winning the 'somewhat conservative' block of voters to help guide my analysis." - Amy Walter, National Editor, The Cook Political Report
"Olsen and Scala have an important book that is a must-read for anyone interested in political parties and presidential nominations. This book serves as a major correction to the stereotypes of the Republican Party that are common in the media and in academic characterizations of the party. Olsen and Scala provide a detailed analysis of survey data from 2000 to 2012. They convincingly show that Republican voters in caucuses and primaries are ideological, but not as homogenously so as the conventional wisdom suggests. They identify four ideologically distinct factions in the party that differ in their preferences for candidate characteristics and policy priorities. Notably, the Republican nominee has been the preferred candidate of the less vocal 'somewhat conservatives' rather than the preferred choices of social conservatives and very conservative secular Republicans.
The Four Faces of the Republican Party
also offers insightful and instructive observations about the regional variations in the strength of the four ideological factions–results that surely will challenge the conventional portrayals found in the media. This is a great read for politically interested citizens, students, and academics alike." Wayne Steger, Professor of Political Science, DePaul University
"The race for the 2016 Republican presidential nomination promises to be the wildest and most unpredictable ever. To make sense of the different brands of Republican voters, there is no better guide than Olsen and Scala's The Four Faces of the Republican Party. A must-read for political junkies in this turbulent election cycle." - Michael Barone, senior Political Analyst, Washington Examiner; Resident Fellow, American Enterprise Institute; and the co-author of The Almanac of American Politics (1972)
"In this incisive and deeply researched analysis, Olsen and Scala persuasively argue that the key to winning the Republican presidential nomination in the modern primary era is not so much money, or momentum, or even the tap on the shoulder from party leaders, but the ability to consolidate support from across the party's four distinct factions of voters through victories in the first contests on the calendar. In a campaign defined by constant polling, breathless media coverage, and rapid shifts in conventional wisdom, Olsen and Scala's careful focus on the distinct patterns that have shaped every recent GOP nominating contest offers a better guide to how this tumultuous race may actually unfold than almost all of the punditry flying across the airwaves and the internet. From voters to political pros to journalists, anyone with an interest in the outcome of the GOP contest will benefit from their sharp examination of the key fault lines in the Republican electorate-and their surprising assessment of which faction is most likely to decide the winner in this boisterous contest." - Ronald Brownstein, Atlantic Media
"The early primary season is always an unpredictable and fluid time. Strong candidates flame out, unknown candidates rise up, and the polls seem to bounce all over the place. This year, however, has felt more unstable than ever. Yet, as scholars Dante Scala and Henry Olsen have outlined in this important book, there is an actual method and predictability in this madness and that the GOP presidential electorate is remarkably stable. Scala and Olsen, through exhaustive research into GOP primary voting behavior over the last three open primaries, find that ideology - more than any other factor - is the biggest driver of the vote. Based on their research, I know that I will be looking most closely at which candidate is winning the 'somewhat conservative' block of voters to help guide my analysis." - Amy Walter, National Editor, The Cook Political Report
"Olsen and Scala have an important book that is a must-read for anyone interested in political parties and presidential nominations. This book serves as a major correction to the stereotypes of the Republican Party that are common in the media and in academic characterizations of the party. Olsen and Scala provide a detailed analysis of survey data from 2000 to 2012. They convincingly show that Republican voters in caucuses and primaries are ideological, but not as homogenously so as the conventional wisdom suggests. They identify four ideologically distinct factions in the party that differ in their preferences for candidate characteristics and policy priorities. Notably, the Republican nominee has been the preferred candidate of the less vocal 'somewhat conservatives' rather than the preferred choices of social conservatives and very conservative secular Republicans. The Four Faces of the Republican Party also offers insightful and instructive observations about the regional variations in the strength of the four ideological factions–results that surely will challenge the conventional portrayals found in the media. This is a great read for politically interested citizens, students, and academics alike." Wayne Steger, Professor of Political Science, DePaul University