© 2015
Jimmy Carter and the Middle East
The Politics of Presidential Diplomacy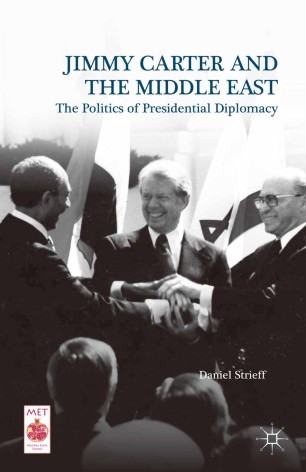 About this book
Introduction
Based on newly declassified documents, this book offers a provocative new analysis of President Jimmy Carter's political role in Arab-Israeli diplomacy. It analyzes the reflexive relationship between domestic politics and foreign policy, especially the roles played by the media, public opinion and pro-Israel lobby groups.
Keywords
Carter
Israel
Middle East
Arab-Israeli
AIPAC
Egypt
Palestinians
Palestine
West Bank
Presidency
Diplomacy
Politics
Begin
Sadat
Jewish
Media
Congress
Cold War
Public Opinion
Democrats
bibliography
diplomacy
foreign policy
Peace
Policy
politics
Bibliographic information
Reviews
'This book makes a critical contribution to our understanding of American foreign policy in the 1970s, an understudied period particularly relevant to the understanding of contemporary Egyptian-Israeli relations and the Israeli-Palestinian stalemate. The book focuses on American attitudes (as shaped and reinforced in the news media) toward the Middle East and its people. Indeed, it is from these broader societal conditions that foreign policy itself springs. Strieff shows that whenever the president becomes directly involved in diplomatic initiatives, politics never stops at the proverbial water's edge.' Fawaz Gerges, Professor of International Relations at London School of Economics and Political Science (LSE), UK, and author of Obama and the Middle East: The End of America's Moment?
'This book offers a useful and original contribution to its field, including analyses (such as that of the 1977 Communique and the warplanes sales) which break new ground. The sheer scholarly weight of the study constitutes a landmark work of academic analysis in the area. A vital point of reference for future researchers in the area.' John Dumbrell, Professor of Government, Durham University, UK