© 2015
Japanese and Russian Politics
Polar Opposites or Something in Common?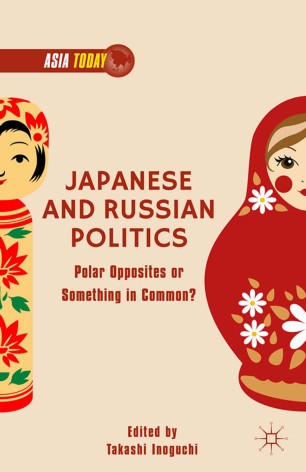 Table of contents
Japan and Russia: Domestic Politics and Foreign Policy

Japanese Politics: Leaders, Political Parties, and Economic Policy

Russian Politics: Leaders, Kremlin and Politics of Vperyod (Forward)

Japan and Russia Economics

Japanese Foreign Policy: "searching for an Honorable Place in the World"

Russian Foreign Policy: Vperyod (Russia Go Forward) Eastward?
About this book
Introduction
This volume offers a comparative analysis of Japanese and Russian politics in the 2010s, examining both domestic dimensions and foreign policy. A bi-national collaborative effort, the volume is structured to offer perspectives on each country from both Russian and Japanese scholars. An introduction by Takashi Inoguchi gives a historical overview of the two countries' paths to development as 'late comers' vis-à-vis the West in the late nineteenth century. The analysis that follows reveals that Japan and Russia have come to acquire genuinely striking contrasting features: frequent leadership change despite extraordinary societal stability and continuity in Japan and infrequent leadership change despite extraordinary ups and downs in Russia.
Keywords
Comparative analysis
dictatorship
economic policy
foreign policy
Policy
Political Parties
politics
Bibliographic information