© 2015
Solving the Strategy Delusion
Mobilizing People and Realizing Distinctive Strategies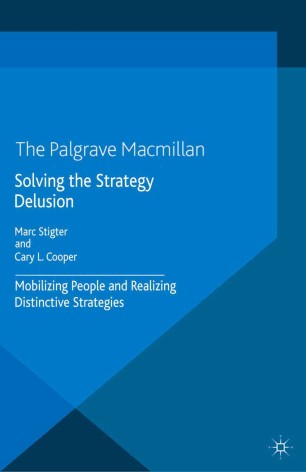 About this book
Introduction
Solving the Strategy Delusion matters to anyone interested in realising strategy in the 21st century. The book challenges conventional and 'delusional' approaches to strategy. It offers different ways of seeing, thinking, planning, acting, and mobilising when it comes to making strategy happen in a world of volatility and complexity.
Keywords
complexity
Organisation
organization
planning
strategy
Bibliographic information
Book Title

Solving the Strategy Delusion

Book Subtitle

Mobilizing People and Realizing Distinctive Strategies

Authors

DOI

https://doi.org/10.1057/9781137394699

Copyright Information

Palgrave Macmillan, a division of Macmillan Publishers Limited

2015

Publisher Name

Palgrave Macmillan, London

Hardcover ISBN

978-1-137-39467-5

Softcover ISBN

978-1-349-99994-1

eBook ISBN

978-1-137-39469-9

Edition Number

1

Number of Pages

XVI, 167

Number of Illustrations

0 b/w illustrations, 0 illustrations in colour

Topics

Business Strategy/Leadership
Management
Human Resource Management
Organization
Behavioral/Experimental Economics
Office Management

Reviews
Solving the Strategy Delusion is a comprehensive and insightful remedy for the field of strategic change, and advances the subject in original ways. Everyone working at senior levels of business and policy should read this book. This is a fresh and decisive contribution to the canon of strategy.
Kevin Roberts, CEO Worldwide of Saatchi & Saatchi
Solving the Strategy Delusion opens new windows for looking at realising strategy. It rewrites ingrained behavioural practices to fit today's extraordinary strategic challenges.
Fons Trompenaars; Ranked one of the top 50 Most Influential Management Thinkers in 2013 and co-author of Riding the Waves of Culture - Understanding Diversity in Global Business
This remarkable book is a survival guide for business leaders who have found the ground shifting quickly beneath their feet. But more than that it's a logical path forward showing us how to realise distinctive strategies by unlocking the energy of people within the organisation. It's clever and timely.
Tony Gillies; Editor in Chief, Australian Associated Press
Don't even think of embarking on any strategic change effort without reading this book first! It demonstrates not only why conventional planning has become irrelevant but, importantly, how to see, feel, think, and act strategically in today's fast changing environment.
James Sutherland; Chief Executive Officer, Cricket Australia
Don't be deluded that strategic planning leads to strategic thinking. If strategic changes are to be realised then this book is a must for those who want to make that happen!
Professor Philip Dewe; Birkbeck, University of London
Solving the Strategy Delusion hits at the very core of challenges that most organisations suffer from in the current era. Too many organisations continue to plod along with old-fashioned thinking even if the paradigms have changed dramatically around them. This pioneering book delves into the causes of such delusions which occur around the much-exploited term of strategy. The authors present a compelling in-depth, incisive, and to the point view based on their vast industry experience and decades of academic pursuit on the subject of strategy and organisational behaviour. This is a can't-put-down book and a must-read for all CEOs and executives wanting to make a real difference!
Sanjay Mathur; Vice President, India & ASEAN, Foseco at the Vesuvius Group
Solving the Strategy Delusion is the ultimate why, what, how, who, and when of strategy realisation in the 21st century. It will inspire, energise and give you a foundation from which to make strategy truly happen.
Paul Baxter; Chief Executive and National Commander, New Zealand Fire Service
Almost all organisations these days claim to have a 'strategy' - it would hardly be fashionable to not have one! But how many of these strategies are delusional, destroy value and organisations? Many - according to this original book from Dr Marc Stigter and Sir Cary Cooper, in which they outline cases where ingrained and delusional models of strategy were held on to, despite their shortcomings. They demonstrate how to avoid delusion and achieve strategic wisdom. Such wisdom means ditching most of the security blankets and conventions that managers and leaders still hang on to, even today, such as command and control, managing by the numbers and through stressed out workers. There are better ways and this book elaborates them!
Professor Stewart Clegg; University of Technology, Sydney
You are about to read a book that gives a fascinating perspective on how it doesn't work and how it should in many organisations when it comes to strategic change! The examples discussed in Solving the Strategy Delusion on how people react to change or keep holding on to the status quo are very recognisable. But in today's landscape this is not sustainable. Dr Marc Stigter and Sir Cary Cooper explore how to bring new strategies to life and think beyond traditional practices and models. I highly recommend this book to all Forward Thinkers and Doers out there!
Rick Denekamp; Vice President, Trade & Commodity Finance, ING Bank, Netherlands
Solving the Strategy Delusion is an outstanding reference for realising strategic change in today's complex environment.
Zeger Degraeve; Dean, Melbourne Business School; Dean, Faculty of Business and Economics, The University of Melbourne
Dr Marc Stigter and Sir Cary Cooper are to be congratulated for highlighting the need for a more holistic view on strategy - to use an Australian colloquialism they call a spade a bloody shovel! I commend them for that. In today's fast changing environment, we are seduced to a world of short termism without proper regard for or a focus on the future. In such a world, strategy is more often than not relegated to an annual repetition of talkfests followed by a plethora of communications of various forms without action or progress. This book challenges conventional thinking and provides invaluable and practical insights that will enable the reader to mobilise their organisation in a manner that will enable them to realise distinctive strategies which will endure. Highly recommended!
Darryl McDonough; Former Chief Executive Partner, Clayton Utz
Solving the Strategy Delusion doesn't naively claim to provide all the 'answers' but instead serves as a practical guide for you to challenge the status quo and change the way you think, plan, and put into practice strategic change. This is a book you are going to want to keep with you.
Grant Rickard; Vice President, Systems Support - Europe, Middle East & Africa, Oracle
How do you unlock deep customer insights and realise distinctive strategies? How do you overcome organisational inertia and unleash productive energies? How do you mobilise people who can, know and want to realise strategic change? This remarkable book reveals answers to these questions and in essence shows how to truly strategise from the outside-in rather than inside-out even for biased insiders.
Christian Overgaard; President Danfoss China
If we're completely honest, most leaders are consumed by the daily battle to ride out the bumps let alone prove we own a confident strategy that will sustain us long into the future. Authors Stigter and Cooper deconstruct the challenges we face inside and out then provide the keys to overcome organisational inertia and unleash productive energies. It's a must.
Mick Crowe; Managing Director, G&S Engineering Services
Solving the Strategy Delusion is a refreshingly new perspective on strategy and strategic change. We are presented with a systematic questioning on how companies tackle strategy and change, create customer value, mobilise people and exercise leadership, through several types of delusions. These topics are then explored in a sensitive and pragmatic fashion. A 'must read' in the strategic management literature.
Rita Cunha; Associate Professor of Global Human Resource Management; Nova School of Business and Economics, Lisbon, Portugal
Strategy as we know it won't cut it anymore in today's environment. The authors take us through a compelling journey on how to survive. This book is relevant to anyone with a desire to realising strategic change enduringly!
Jonathan Sampson; Regional Director, Hays, Japan
The book races through how to create distinctive plans with both the customer and the workforce. The detailed glossary offers a mini-MBA of its own!
THE TIMES Book of the Week
Written concisely and in an engaging style, Stigter and Cooper have produced a very worthwhile book here on the challenges of modern leadership
The Irish Times
Stigter and Cooper offer very practical insights how to embed strategy into the heart of the everyday running of a business
Elite Business Magazine (UK)