© 2013
The Politics of Sex Trafficking
A Moral Geography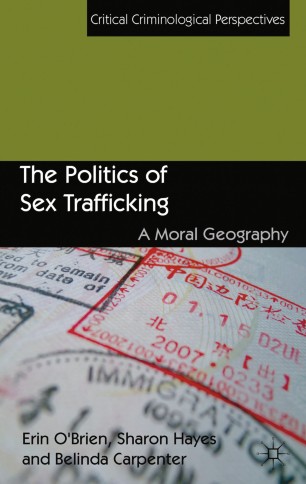 About this book
Introduction
This book offers a unique insight into the moral politics behind human trafficking policy in Australia and the USA, including rare interviews with key political actors, and a critical account of Congressional and Parliamentary hearings.
Keywords
Prostitution
policy
sex trafficking
Australia
USA
moral ethics
morality
parliament
Policy
politics
Bibliographic information
Reviews
"This book is refreshing in its attempt to think through issues of harm, morality, prostitution and trafficking but to do so with a firm focus on politics and policies and in a way that is grounded in a range of different empirical data. For this reader, the two stand out strengths of the book are the skilful handling of what is now a very large literature on the politics of prostitution and the way this is integrated within the actual analysis. The book raises some important questions about how 'the harms' of prostitution and sex trafficking are constituted by the way it links narrative analysis of sex trafficking with the politics of measuring 'the problem' and the political solution enacted. Accessible and thought-provoking, this book has something in it for everyone."
- Jo Phoenix, University of Durham, UK
"By critically evaluating the dominant anti-trafficking paradigm and prevailing policies based on it, The Politics of Sex Trafficking shows how ideological interests and unproven claims about the 'intrinsic' harms of prostitution have been fused with sex trafficking and have shaped public policies. O'Brien, Hayes and Carpenter present an alternative perspective one that centers on coercion and deception in the migration process and labor arena instead of the practice of sexual commerce itself as a superior framework for policy makers interested in combating genuine cases of abuse. The book is a major contribution to our understanding of the debate surrounding human trafficking."
- Ronald Weitzer, George Washington University, USA