© 2013
Political Parties in Multi-Level Polities
The Nordic Countries Compared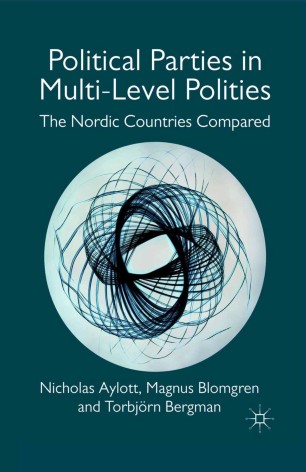 About this book
Introduction
Political parties are essential for the functioning of parliamentary democracy but how have parties adapted to the challenges created by the growth of a new layer of political decision-making at the supranational level, i.e. the EU? This comparative survey focuses on parties in four Nordic countries, including Norway, which remains outside the EU.
Keywords
decision-making
democracy
Europe
European Union
European Union (EU)
parliament
Political Parties
Bibliographic information
Reviews
Comparing how intra-party delegation and accountability mechanisms work in the Nordic countries, Aylott, Blomgren and Bergman provide plenty of evidence about both change and continuity inside political parties. Based on extensive empirical material and sophisticated argumentation, this book is essential reading to students of political parties, Europeanisation and the state of representative democracy in today's multi-level European polity.
Tapio Raunio, School of Management, University of Tampere, Finland
"Political Parties in Multi-Level Polities' fills an important gap in the literature by investigating the effect of European integration on the mechanisms of democratic accountability within political parties. The contribution to the literature is both theoretical and empirical: it presents a clear and original principal-agent framework focusing on delegation within party organizations, and it presents systematic and rich case studies studying how intra-party delegation occurs in the Nordic political parties. The book is essential reading for party researchers as well as for scholars of European integration and should have important implications for future research in the field.
Hanna Bäck, Department of Political Science, Lund University
This timely book provides a valuable theoretical and empirical examination of intra-party organization and democracy, across the national and European level of government, within the Nordic region. It will be welcomed by those particularly concerned with Nordic politics, but also be of interest to students of party organizations and European integration in general.
Elin Haugsgjerd Allern, Department of Political Science, University of Oslo