© 2013
Charting Transformation through Security
Contemporary EU-Africa Relations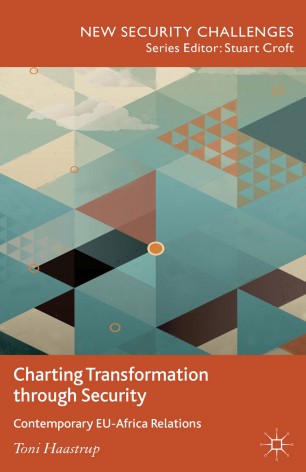 About this book
Introduction
This book analyses security cooperation in the domain of inter-regionalism, addressing the emergence of the African Union as a regional actor and its impact on EU-Africa relations. It explores the transformative potential of security cooperation for equality, partnership and local ownership in EU-Africa relations.
Keywords
European Union
Africa
security
regionalism
European Union (EU)
Institution
transformation
Bibliographic information
Reviews
"Charting Transformation through Security superbly fills the glaring gap in scholarship in the security relationship between European Union and the African Union. The EU-AU partnership has been a key component of the EU's security footprint in Africa and Haastrup comprehensively assesses the actors, stakeholders and processes that are key to understanding this relationship."
- Richard Whitman, University of Kent, UK
'Haastrup has provided a penetrating analysis of the inter-regionalisation of security cooperation with a focus on the European Union's evolving partnership with Africa. This well-researched and cogently argued book advances our thinking on contemporary manifestations of 'New Institutionalism' and will appeal to officials in the European Union, African Union, United Nations as well as decision-makers, analysts and students of international relations.'
- Tim Murithi, Institute for Justice and Reconciliation, South Africa
"This study provides an excellent analysis of the role that new security considerations have played in the evolving relationship between the European Union and Africa. By looking at the evolution of the relationship from trade and aid agreements to a more comprehensive political arrangement, this book contributes to a better understanding of the complicated nexus between development and security. It is a 'must read' for those interested in debates around the EU as a global actor and the evolution of the African Union, particularly the African Peace and Security Architecture."
- Maurizio Carbone, University of Glasgow, UK