© 2013
History, Memory and Politics in Central and Eastern Europe
Memory Games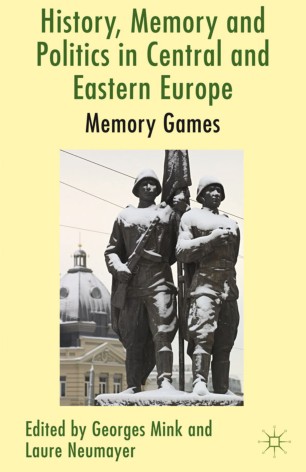 Table of contents
About this book
Introduction
Fourteen specialists of Central and Eastern European politics explore memory policies and politics by examining how and why contested memories are constantly reactivated in the former Soviet bloc. The book explores how new social and political actors can challenge the traditional narratives about the past produced by state bodies.
Keywords
communism
European Politic
European Politics
foreign policy
geopolitics
Institution
Policy
Polis
politics
war
World War I
World War II
Bibliographic information
Reviews
A fascinating book! This is a must read for anyone interested in the issue of coming to terms with difficult collective past by European societies'.
Jan T. Gross, Professor of History, Princeton University, USA
'History of Central and Eastern Europe was boisterous. No wonder that it is present not only in memory but also in everyday life of many Central and Eastern Europeans. The volume gives an impressive insight into the complicated past of this region while, at the same time, convincingly showing how historical memory shapes our life to-day. Each student of European affairs will greatly benefit from this volume'.
Edmund Wnuk-Lipi?ski, Professor of Sociology, Collegium Civitas, Warsaw, Poland
'This brilliant and thoughtful book demonstrates that any process of Europeanization of histories and memories has to abandon the cliché that the Eastern and Central Europe situation was mainly influenced by the Western and Holocaust oriented 'memory boom'. On the contrary, the case studies presented here show to what extent memorialization in former Communist countries has followed its own path since the 1990s, and how it will probably change our perception of European history and politics since 1945'.
Henry Rousso, Senior Researcher, Institut d'histoire du temps présent, CNRS, Paris, France