© 2013
Federalism and Decentralization in European Health and Social Care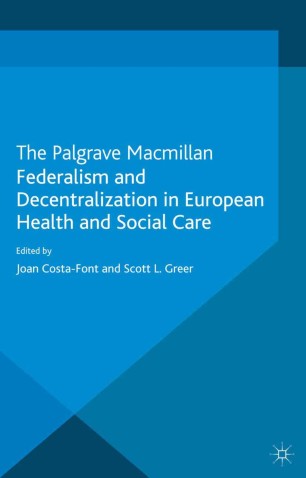 Table of contents
About this book
Introduction
This is the first book to examine the processes of territorial federalization and decentralization of health systems in Europe drawing from an interdisciplinary economics, public policy and political science approach. It contains key theoretical and empirical features that allow an understanding of when health care decentralization is successful.
Keywords
budget
federalism
health policy
nationalism
Policy
political science
Bibliographic information
Reviews
A very welcome contribution testing the impact of health care decentralisation on health policies, accountability and citizens' satisfaction. This book makes clear that political infra-state devolution not only promotes and encourages emulation between jurisdictions but that also, in the absence of fiscal responsibility in these states, impacts negatively on the public budgets of the countries examined.
-Guillem López-Casasnovas, Professor of Economics, Pompeu Fabra University, Barcelona, Spain
The pathbreaking chapters in this book are precise when existing accounts are vague, lucid when other accounts are confusing, and politically savvy throughout. The book is a major contribution to the comparative understanding of health, policy, and territorial politics in Europe
-Guy Lodge, Institute for Public Policy Research and Nuffield College, University of Oxford, UK