© 2013
Emotions in Politics
The Affect Dimension in Political Tension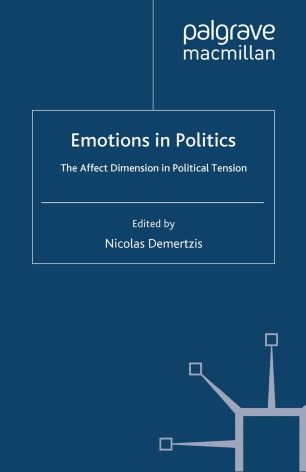 About this book
Introduction
Prompted by the 'affective turn' within the entire spectrum of the social sciences, this books brings together the twin disciplines of political psychology and the political sociology of emotions to explore the complex relationship between politics and emotion at both the mass and individual level with special focus on cases of political tension.
Bibliographic information
Reviews
This collection represents the state of the art with regard to the
sociology of emotions. The essays, by leading scholars in the social sciences, clearly demonstrate the fundamental importance of affect in the study of political action and institutional behaviour. I know of no better introduction to this growing field. Its publication could not come at a better time.
Ron Eyerman, Center for Cultural Sociology, Yale University, USA
Emotion in Politics manages in a very successful manner to bring together theoretical issues in the political sociology and psychology of emotions and empirically oriented studies on a variety of recent political developments. This combination clarifies theoretical debates on the micro-macro distinction, the reason-passion or interest-emotion distinction, the shortcomings of the rational choice approach etc. At the same time it shows the importance of taking seriously into account the emotive dimension in dealing with topics ranging from the Arab Spring and the Greek socioeconomic crisis to the analysis of protest movements and the xenophobic practices in several EU countries. On both the theoretical and empirical level the book contributes in an important way to the rapidly growing literature on the emotion-politics nexus.
Nicos Mouzelis, European Institute, London school of Economics, UK