© 2013
The European Union and the Council of Europe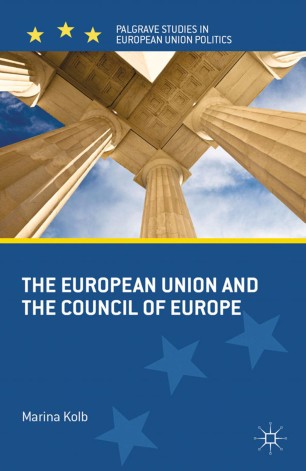 About this book
Introduction
Marina Kolb traces the relationship between the EU and the Council of Europe in the field of human rights. Applying an implementation literature and management studies-perspective, it argues that the biggest threat to interorganizational cooperation is organizational self-interest, despite a shared policy interest.
Keywords
European Union
European Union (EU)
fundamental rights
G 8
human rights
Institution
Policy
terrorism
Bibliographic information
Reviews
'While world politics not too long ago suffered from too little institutionalized cooperation, the problem nowadays is often the reverse: international organizations with overlapping mandates. In this important, new book, Marina Kolb explores when and why such overlaps breed conflict or cooperation between organizations. The book succeeds admirably in combining an innovative theoretical approach to inter-organizational relations with a rich empirical analysis of relations between the Council of Europe and the EU in the area of human rights.'
Jonas Tallberg, Department of Political Science, University of Stockholm, Sweden
This book is a significant contribution to a highly important but largely neglected aspect of international governance: How do international organizations deal with overlapping competence? Based on a thorough empirical study the author demonstrates how institutional self-interest cause contentious relations and prevent efficient cooperation as well as a useful division of labour. This is an important lesson in view of the proliferation of IOs and their increasing relevance in regional and global governance.
Beate Kohler, The Mannheim Centre for European Social Research (MZES), University of Mannheim, Germany
This book is a "must read" for both practitioners and academics interested in the growing literature on relations among international organizations. Marina Kolb offers one of the most thorough analytical and empirical treatments of this subject to date and, moreover, focuses on an essential relationship for the current European inter-organizational landscape.
Alex Grigorescu, Department of Political Science and Assistant Director of the International Studies Program, Loyola University Chicago, USA.