© 2013
Cybercrime and Cybersecurity in the Global South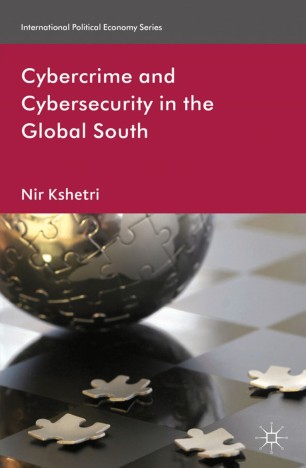 About this book
Introduction
Integrating theories from a wide range of disciplines, Nir Kshetri compares the patterns, characteristics and processes of cybercrime activities in major regions and economies in the Global South such as China, India, the former Second World economies, Latin America and the Caribbean, Sub-Saharan Africa and Middle East and North Africa.
Keywords
crime
cybercrime
security
Bibliographic information
Reviews
"[This] book provides an interesting perspective on cybercrime in non-western countries. Its breathtaking range of coverage provides a lens into locations and settings that might otherwise be overlooked by cybercrime researchers from the Global North."
- Rutgers University Review
"This book is the latest and most comprehensive book on the subject of cybercrime in the Global South. It significantly contributes to building awareness about the severity of the cybercrime problem It should prove invaluable to students, practitioners, and researchers from different disciplines.' Journal of Global Information Technology Management
'This book contributes to bridge the gap in understanding the role of cybersecurity in international political economy and related areas It should be helpful for government members, students, researchers and practitioners." Digiworld Economic Journal
"Kshetri's survey of cybercrime and the macro-level factors influencing its development in Global South regions is impressive Kshetri has sketched out the broad forces that characterize cybercrime in the Global South as distinct from the Global North. Those seeking a foundational text on the topic will be well served to begin with Cybercrime and Cybersecurity in the Global South." - Telecommunications Policy