© 2012
Al Jazeera English
Global News in a Changing World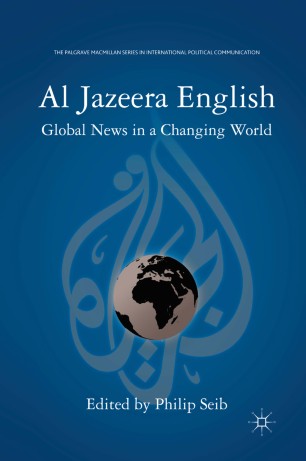 About this book
Introduction
Although Al Jazeera English has yet to receive to receive the attention accorded to its Arabic-language elder sibling, it is in many ways the more interesting of the two. It seeks to redefine global news coverage by focusing on areas that are traditionally neglected by most news organizations, and its potential audience is many times larger than that of the Arabic channel. This will be the first book to thoroughly examine this channel's coverage methods, effects on its audience, and its place in the world of mediated geopolitics.Al Jazeera recognized that if it was to expand its worldwide influence, it could not do so wholly in Arabic. And so, in 2006, it launched Al Jazeera English, the first English-language news channel to be headquartered in the Middle East. With its principal broadcast centers in Doha, Washington, London, and Kuala Lumpur, the channel faced the task of proving itself to be more than a curiosity and just a junior version of the all-news English-language channels such as the BBC or CNN. After several years of operation, Al Jazeera English seems well on its way to defining its place in the market. The breadth of its coverage, particularly its emphasis on reporting from the global South, has distinguished it from many of its competitors. Thorough coverage from the Middle East and from Africa provides a perspective that other major satellite channels have rarely offered their audiences. Initially, Al Jazeera English was available to 80 million cable and satellite households. It was, however, accessible by only a small number of viewers in the United States (mainly those accessing it through several online providers) primarily because of political reasons. Whatever the political back-story may be, gaining access to a larger global market will depend on audience demand. If Al Jazeera English does a better job of covering major stories, particularly in the Middle East and the global South, than other channels do, and if its competitors find themselves saying, "As Al Jazeera English reported today . . .," news consumers will eventually demand access. This book will examine these political issues and will also analyze the channel's audience base, particularly in Africa and South Asia. The book will also offer evaluations of Al Jazeera English's defining moments to date - its reporting during the 2008-2009 war in Gaza (written by Palestinian and Israeli scholars), and its coverage of the "Ground Zero Mosque" controversy in 2010. The volume will also consider Al Jazeera English in the context of public diplomacy and the growing significance of diasporic populations.
Keywords
communication
methods
Nation
nature
politics
Bibliographic information
Book Title

Al Jazeera English

Book Subtitle

Global News in a Changing World

Authors

Series Title

The Palgrave Macmillan Series in International Political Communication

DOI

https://doi.org/10.1057/9781137015747

Copyright Information

Palgrave Macmillan, a division of Nature America Inc.

2012

Publisher Name

Palgrave Macmillan, New York

Hardcover ISBN

978-0-230-34020-6

Softcover ISBN

978-0-230-34021-3

eBook ISBN

978-1-137-01574-7

Edition Number

1

Number of Pages

IX, 204

Number of Illustrations

0 b/w illustrations, 0 illustrations in colour

Topics

Media Studies
Political Sociology
Globalization
International Relations
Sociology, general
Political Communication

Reviews
"Al Jazeera English is a contradiction in terms: an Arab government-financed channel that is pioneering borderless journalism and has cemented its reputation covering Arab revolutions. Seib and his collaborators elegantly capture the complexity, showing us there is no black & white in the AJE newsroom or in its unique role in global media politics."
- Larry Pintak, founding dean, The Edward R. Murrow College of Communication, Washington State University and author, The New Arab Journalist
"Al Jazeera English: Global News in a Changing World shines much-needed light on the rise and impact of the Al Jazeera global news phenomenon. Impressively weaving together the perspectives of journalism, politics, international relations, political economy, international communications, and media and audience studies, the essays in this book provide a broad yet deep and critical context to understand the controversies that have accompanied both Al Jazeera Arabic and Al Jazeera English since the start of their operations in 1996 and 2006 respectively. This book will be an eye-opener not only for the readers who wish to learn more about the channel that brought to the world the voices and images of the Arab spring, but also for those who want to understand the way global news and journalism are shaping the future of international politics."
- Cristina Archetti, lecturer in Politics and Media, University of Salford (UK)
"Al Jazeera English has cemented itself as a vital connection between English-speaking audiences and global news events. While many commentators and pundits struggle to come to grips with this new competitor in the global news market, Philip Seib has brought together a group of scholars who deliver a realistic assessment of the reporting, finances, and politics that lie behind Al Jazeera English news. This book helps us know more about the shifting patterns of credibility and trust in global media and politics."
- Ben O'Loughlin, professor of International Relations, Royal Holloway, University of London