© 2014
Homosexualities, Muslim Cultures and Modernity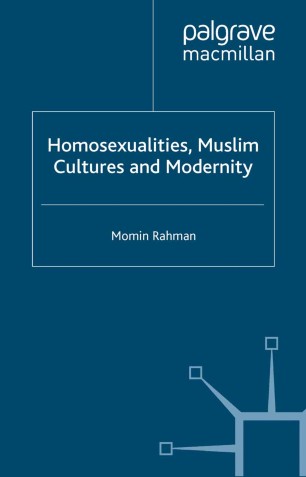 About this book
Introduction
This book addresses the increasing role of queer politics within forms of Islamophobia, both by exploring the framing of lesbian, gay, bisexual, and transgender (LGBT) issues as a key marker of western superiority and by identifying the ways in which Muslim homophobia contributes to this dialectic.
Keywords
gender
identity
migration
politics
Tradition
transformation
Bibliographic information
Reviews
"Rahman's argument provide a thoughtful contribution to how we think about the development of multiculturalism internationally. … His book also brings attention to the very important topic of sexual diversity in the Muslim world, which is deserving of more academic attention. This book serves as a great starting point for a larger discussion on the many western and eastern influences that shape contemporary sexual politics among those in the West and in Muslim communities." (Jaime Kucinskas, Contemporary Sociology, Vol. 45 (1), January, 2016)
"Momin's book is one of the best analysis of homosexuality and modern Muslim identity to appear recently. While the book is an in depth look at the current debates about Muslims and modernity, its theoretical tools are fundamental to understanding the complex notion of modernity. It reminded me of Timothy Mitchel's The Colonization of Egypt. Momin's book is a comprehensive work, exhaustively researched, judicious in its assessment and sets forth a theoretical model that will alter the way we understand Muslim modernity.
An outstanding work. Its implications go to the heart of the debate about what modernity means." - Walid Saleh, Professor of Islamic Studies, University of Toronto, Canada
"This book navigates deftly through the fraught relationship of Islam and homosexuality, pulling apart the quick equation of the West with the modern liberal embrace of gay rights and Islam with the opposite. Offering both personal and theoretical reflections, this is the landmark study that sets the standard for scholarship on the nexus between gay and Muslim." - Barry Adam, Professor of Sociology, University of Windsor, Canada