© 2009
Francophone Voices of the "New" Morocco in Film and Print
(Re)presenting a Society in Transition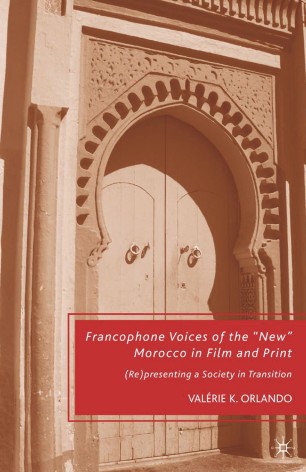 About this book
Introduction
This study of Moroccan society explores the country's culture through its literature, journalism and film. It examines transitions from traditionalism to modernity within the conflicted polemics of the post-9/11 world. Addresses issues including feminism, sexuality, gender and human rights and how they are conveyed in Moroccan media.
Keywords
cinema
culture
film
gender
novel
society
Tradition
Bibliographic information
Book Title

Francophone Voices of the "New" Morocco in Film and Print

Book Subtitle

(Re)presenting a Society in Transition

Authors

DOI

https://doi.org/10.1057/9780230622593

Copyright Information

Palgrave Macmillan, a division of Nature America Inc.

2009

Publisher Name

Palgrave Macmillan, New York

Hardcover ISBN

978-0-230-61631-8

Softcover ISBN

978-1-349-37986-6

eBook ISBN

978-0-230-62259-3

Edition Number

1

Number of Pages

XXII, 262

Number of Illustrations

4 b/w illustrations, 0 illustrations in colour

Topics

Postcolonial/World Literature
Cultural and Media Studies, general
Screen Studies
Literary Theory
Cultural Theory
Film History

Reviews
"Orlando concludes with the responsibility of the authors, directors, readers and spectators who must renegotiate historical memory and actually ameliorate reality; she engages us in a dialogue with a part of the world that is often misunderstood. An excellent reflection on civilization, and a precise anthology on literature, cinematography, and Moroccan media, her study, accessible to all, addresses a very broad and varied readership: university faculty, students, or lovers of Morocco and Moroccan culture." - French Review
"A most welcome departure from the focus on canonic North African francophone writers that still often exists in American and French universities...Orlando succeeds in documenting how recent fiction and film represent contemporary issues in Moroccan society, and in this regard, provides a valuable roadmap to post-1999 Moroccan cultural production." - Research in African Literatures
"In Morocco today, writers and filmmakers view themselves as political and cultural activists bearing witness to the multiple changes that are taking place in their society. Orlando gives her readers important insights into this period of transformation. Examining the ways in which Moroccan francophone literature and film express the shift from the repressive regime of King Hassan II to the more tolerant regime under King Mohamed VI, she presents her readers with a critical analysis that compares and contrasts the "new" Morocco with the earlier period under Hassan II commonly referred to as "the lead years" as it reveals the importance Moroccans attribute to historical memory. Focusing upon unearthing stifled voices by studying works of former political prisoners and women social activists, she brings her English-speaking audience into a realm that is little known beyond Morocco's borders. Orlando is an excellent scholar; her carefully researched cultural critique proves it." - Mildred Mortimer, Professor, Francophone Literature, University of Colorado, Boulder
"With this interdisciplinary study, Orlando single-handedly adds a definitive chapter to the history of Maghrebian letters in French. By bringing to light a new generation of writers as well as situating them in relation to some already established ones, she makes literary sense of the aftermath of Hassan II's brutal reign. Not only does this work carefully balance politico-historical contextualization with close readings of multiple genres - including testimonials, novels, poetry, cinema, journalism, and political philosophy - but it also devotes special attention to transformations of gender and sexuality in contemporary Morocco." - Jarrod Hayes, Associate Professor, French and Francophone Studies, University of Michigan and author of Queer Nations: Marginal Sexualities in the Maghreb.
"Well-informed by recent interviews conducted on the ground, Orlando's book is an engaging roadmap to the recent cultural production of Morocco, dealing with a wide range of material, including novels, poetry, autobiographies, magazines, and films, most of them not available outside the country. Francophone Voices of the 'New Morocco' in Film and Print provides a comprehensive survey of the major issues in Morocco since Mohammed VI's coronation in 1999, and paves the ground for further scholarship on such a vibrant literature." - Carine Bourget, University of Arizona and author of Coran et Tradition islamique dans la littérature maghrébine
"Ambitious in scope, the manuscript meets and surpasses its promise to be comprehensive and timely . . . This fascinating, rich and timely book will be a major contribution to Moroccan studies and Francophone cultural studies." - Mary B. Vogl, Associate Professor, Foreign Languages and Literatures, Colorado State University
"I just finished reading [Francophone Voices of the 'New' Morocco in Film and Print], and all I can say is that it's a book I wish I could have written." - Mary Jean Green, Edward Tuck Professor of French, Dartmouth University