© 1998
Britain, Mihailović and the Chetniks, 1941–42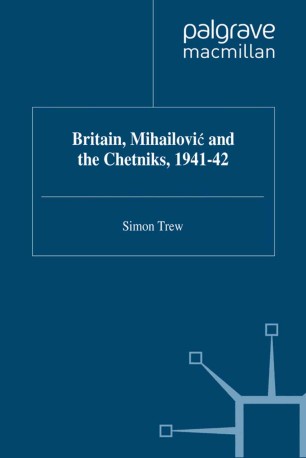 About this book
Introduction
Casting new light on a controversial aspect of wartime British foreign policy, this book traces the process by which the British authorities came to offer their backing to Colonel Draza Mihailovic, leader of the non-Communist resistance movement which emerged after the Axis invasion of Yugoslavia in April 1941. It also examines why British confidence in Mihailovic was subsequently eroded, to the point where serious consideration was given to transferring support to his avowed enemies, the Communist-led Partisans.
Keywords
Bibliographic information
Reviews
'...Trew has been indefatigable in his pursuit of sources and has, indeed, shed much light in many obscure corners...Where the notes and the text converge - as in his convincing account of Mihalovic's efforts...the book becomes alive...[a] valuable...book.' - Mark Wheeler, Intelligence and National Security
'Herbei hat er einen Aufwand betrieben, der auch die höchsten Ansprüche zufriedenstellen dürfte...
'...extremely well researched...Trew's study nonetheless will be indispensable to students of contemporary Yugoslav history, political analysts, and even politicians.' - Dusan Biber, Journal of Military History
'Simon Trew's volume...comes as a welcome addition to the literature, both because of the myths it debunks and because of the light it sheds on a still controversial episode in European history. Trew uses an impressive array of sources to reconstruct in painstaking detail events following the fall of Yugoslavia to Axis forces in April 1941. What emerges in the book is a clearer picture of Britain's tortuous wartime relationship with Yugoslavian resistance groups, particularly the Chetniks led by army Colonel (...) Draza Mihailovic (...)...Trew makes abundantly clear that the British did not pursue a clear, consistent or realistic policy toward the Chetniks...[He] has put together a fine work, one that highlights the complexity of the situation in occupied Yugoslavia, the confusion in London, and the suffering of ordinary Serbs, Croats, and Muslims. The book demands a sequel to bring the story forward from 1942 to 1945.' - Thomas R. Mockaitis, Small Wars and Insurgencies
'No single book will ever provide all the answers to the why of past and current events in the Former Republic of Yugoslavia. This one will however, cast some considerable light on its period, and provides a significant number of clues to the origins of present day events, not least to the peculiar customs and practices which continue to baffle the out-side observer.' - British Army Review