© 2011
Globalization and Borders
Death at the Global Frontier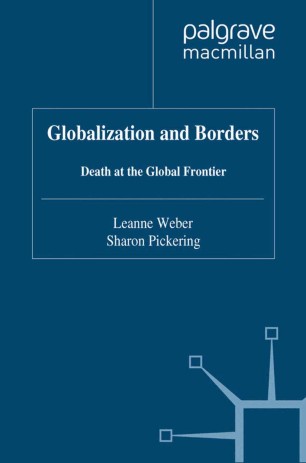 Table of contents
About this book
Introduction
This book analyzes the political and material conditions driving contemporary border control policies and discusses the processes that mediate popular and official understandings of border-related fatalities.
Keywords
Globalization
borders
legal
illegal
death
Front
globalization
violence
Bibliographic information
Reviews
"Leanne Weber and Sharon Pickering in Globalization and Borders: Death at the Global Frontier draw attention to this urgent concern and make a remarkable contribution to the study of migration at the beginning of the twenty-first century. … Globalization and Borders is essential reading for all those who are concerned with the politics of migration. Challenging the hegemonic discourse of border control, it sheds new light on the multifaceted phenomenon of border crossing … ." (Paolo Cossarini, The European Legacy, Vol. 21 (4), February, 2016)
"Globalization and Borders: Death at the Global Frontier is a must-read for anyone interested in rethinking the problem
of policing migration beyond traditional approaches to migration, border controls and sovereignty." -Punishment and Society
"This is an ambitious book that brings attention to an understudied phenomenon, and attempts to develop a criminological explanation for deaths at the border. It pushes the emerging fields of the criminology of mobility and
border criminologies (Aas and Bosworth, 2013) forward since it develops theoretical and empirical links between migration and crime. But, rather than focus exclusively on the criminalization of migration, the books highlights the crimes of the powerful that produce great social harm, a topic of renewed interest to criminology. As such, the book will appeal to readers in critical criminology, socio-legal studies, migration, human rights, international law and globalization among other related fields."
-Theoretical Criminology
"Weber and Pickering's book unravels a striking and largely under-researched facet of immigration as a growing global phenomenon [...] It is a well-documented research about the most pernicious consequences of border controls. By meticulously linking these tragedies to border measures, Pickering and Weber have presented a powerful insight that runs contrary to the dominant public discourse on 'border protection' in Western countries. It is a necessary read for both academics and policy makers."
- British Journal of Criminology
"Globalization and Borders is a comprehensive and insightful study of the deadly nature of border policing activities carried out in Europe and the US. As such, it provides a crucial resource for understanding the fate that awaits asylum seekers deterred from attempting to reach Australia."
- Current Issues in Criminal Justice
'Migration and borders are deeply contested and political issues. Pickering and Weber are two of the most passionate and well informed academic voices in the debate. Drawing from a remarkable range of sources and brilliantly written, their 'border autopsy' is a must-read for any policy maker, student and academic with interest in migration. In fact, it should be read by anyone. The extraordinary human tragedies unfolding at the Western borders, which are masterfully documented and analysed in this book, should not be left to the especially interested.' - Katja Franko Aas, University of Oslo, Norway
'The authors are two of the foremost researchers in the criminology of migration control - a specialist area that they have done much to create and set the agenda for. This book promises to become a standard work on this topic which will provide new and important insights.' - Ben Bowling, King's College, London, UK
'So much of our work here at the Institute is about collecting information on deaths - racist murders, deaths in police custody, in prisons, deaths at the border, deaths in detention centres, asylum seekers who give up hope, hang themselves, jump off balconies. So this book makes me think why do we do it? It's as though, those of us who have been in the business of counting and accounting have without our knowing it provided a counter-balance to the processes of neutralisation, dehumanisation and distanciation that this book describes.' - Liz Fekete, Institute of Race Relations London, UK
'Deaths at the migratory fault lines where rich and poor nations intersect are an almost taken-for-granted reality of our increasingly unequal times. Powerful nations 'illegalize' desperate migrants and subject them to ever more arduous journeys to prevent entry, but they prefer to keep the consequences of these actions out of public view. This thoughtful book, written in the style of an inquest, lays bare the violence that underlies contemporary border control and provides groundwork for a much-needed reconceptualization of national responsibilities.' - Doris Marie Provine, Professor of Justice Studies, Arizona State University, USA
"Leanne Weber and Sharon Pickering have produced an influential and inspiring book and have done so with a mix of passion, research rigour and high-level analysis [...] What is particularly disturbing is that the deaths are predictable and hence preventable with appropriate political will. For a book that deals with such a hefty topic, it is written in an accessible manner that
will ensure its value not only to academics but to practitioners and activists. My hope is that the ministers of states and government authorities that are tasked with border protection will examine what the authors reveal, and find the heart to stand back from politics to produce humane and life-enhancing approaches." - Linda Briskman, ANZ Journal of Criminology, 45(3) 2012
"The book is an extremely thorough forensic investigation into the nexus between border policies and deaths [...] It is exceptionally rich in concepts and offers some fascinating methodological and theoretical approaches, not least because of its criminology perspective." - Frank Düvell, Migration Studies, 2(3) 2014