© 2012
Government Agencies
Practices and Lessons from 30 Countries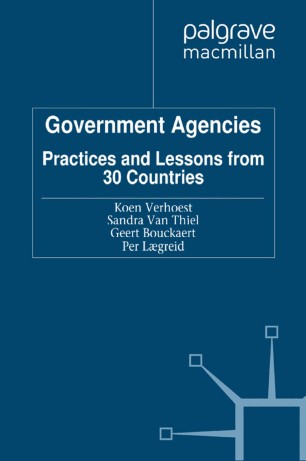 Table of contents
About this book
Introduction
This book describes and compares how semi-autonomous agencies are created and governed by 30 governments. It leads practitioners and researchers through the crowded world of agencies, describing their tasks, autonomy, control and history. Evidence-based lessons and recommendations are formulated to improve agencification policies in post-NPM times.
Keywords
Europe
Germany
Government
Israel
Bibliographic information
Reviews
'Applying a common data and analytic template to 30 countries, the contributors examine the historical origins and legal frameworks of agencies, their capacity to carry out assigned tasks, the political and administrative implications, and more. If the purpose of agencies has been to tear down the vast, vertically-integrated government bureaucracies that dominated public administration during most of the 20th century, most have failed; if their aim has been to improve public services, many have had modest - but not universal - success. With the publication of this book, administrative reformers can innovate with eyes wide open, and with greater comprehension of the difference agencies make in managing the public services.'
- Allen Schick, Distinguished University Professor, School of Public Policy, University of Maryland, USA.
'A comparative study that sheds light on a now popular yet marginally understood form of public organisation. Sitting outside traditional ministerial departments, 'agencies', and how they work in practice are the focus of this book. For its breadth and depth of analysis, it will be of value to practitioners and students alike. The accompanying list of recommendations and lessons in organisational design is a bonus.'
- Janice Caulfield, formerly Associate Professor, University of Hong Kong