© 2011
The Costs and Benefits of Animal Experiments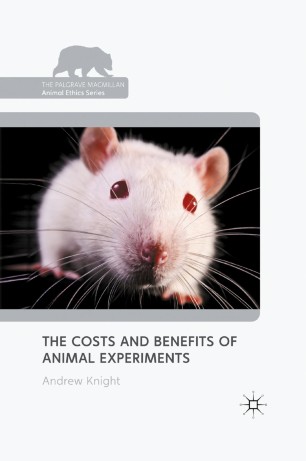 Table of contents
About this book
Introduction
A comprehensive review of recent scientific evidence examining the contributions of animal experimentation to human healthcare. The book also explores toxicity prediction, animal use during life and health sciences education, impacts on student attitudes toward animals, and the extent to which animals suffer in laboratories.
Keywords
animals
education
methodology
policy
Bibliographic information
Book Title

The Costs and Benefits of Animal Experiments

Authors

Series Title

The Palgrave Macmillan Animal Ethics Series

DOI

https://doi.org/10.1057/9780230306417

Copyright Information

Palgrave Macmillan, a division of Macmillan Publishers Limited

2011

Publisher Name

Palgrave Macmillan, London

Hardcover ISBN

978-0-230-24392-7

Softcover ISBN

978-1-349-31867-4

eBook ISBN

978-0-230-30641-7

Edition Number

1

Number of Pages

XV, 254

Number of Illustrations

0 b/w illustrations, 0 illustrations in colour

Topics

Ethics
Moral Philosophy
Social Philosophy
Methodology of the Social Sciences
Bioethics
Life Sciences, general

Industry Sectors
Reviews
"The book will answer most questions about animal experimentation in basic research, in toxicology studies and in education. It does this in a very thorough but readable way. Useful summaries are included at the end of each chapter, as well as an extensive glossary and reference list. … For anyone wanting to take a serious look at animal experimentation, what animals are involved, what sort of experiments are conducted and what the outcomes are – this is an essential read." (Denise Russell, Animal Studies Journal, Vol. 2 (2), 2011)

'In The Costs and Benefits of Animal Experiments, Andrew Knight takes the debate about the utility of research on animals to a new level of scientific investigation. Instead of just listing hand-picked instances of benefits or harms produced by research on animals a procedure obviously prone to bias in the selection of cases he has sought more objective, unbiased indicators of the value of research on animals. His data is devastating to the common assumption that the practice of experimenting on animals has demonstrably high utility for humans, and is therefore justified despite the costs to animals. The Costs and Benefits of Animal Experiments shows clearly that there is insufficient empirical basis for the belief that the benefits of invasive research on nonhuman animals outweigh the costs.' Peter Singer, University of Melbourne.
'Remarkably, Knight manages to fundamentally question the practice of animal experimentation, with very little philosophising. His extensive data proves these experiments fail modern scientific standards in a succession of important medical fields, with potentially serious consequences for patients. It is clear this unemotional book represents one of the most serious scientific body blows ever inflicted against an established field of research. A paradigm shift away from animal experimentation within biomedical research is likely to come, and when it does, this book will probably be identified as one of the causes. The consequences of that shift for scientists, research funders and policy makers will be profound. I strongly urge them to familiarise themselves with the contents of this book.' - Prof. Dr. med. vet. Jörg Luy, Freie Universität Berlin.
'A huge amount of solid research has gone into Andrew Knight's book, which surveys the costs (to us, to the animals involved) and the benefits (such as they are) of animal experimentation, and comes to conclusions backed by rigorous statistical analysis that constitute a challenge to the entire enterprise. The onus now falls on experimenters all over the world to refute Knight's science. If they cannot, the only honest course of action left to them will be to unlock the cages and release their captives.' J. M. Coetzee
'The most complete analysis of published reviews of the benefits to humans of invasive animal studies.' - Dame Jane Goodall
'The best book on animal experimentation ever written.' - Radio 3CR Melbourne Podcast
'[Knight] draws on more than a decade of research and over 500 scientific publications to rigorously test common assumptions about animal experimentation. He offers revealing insights into the true contributions of such research to human healthcare, as well as the nature, severity and prevalence of the impacts experienced by laboratory animals. He comprehensively reviews animal use within life and health sciences education, as well as alternative research and educational strategies. This has allowed him to provide, in polished style, one of the most definitive answers yet published to a question with implications for animal ethics, biomedical research, and society at large, namely, "Is animal experimentation ethically justifiable?' His highly readable book is destined to remain an essential text for all who are interested in the ethical issues raised by animal experimentation, including scientists, philosophers, policy-makers, students, and educators.' - Marc Bekoff , Psychology Today, 2012
'The Costs and Benefits of Animal Experiments is a must read for those who want to discover the truth about the use of animal models in medical research. Using cold, hard facts not emotion Knight reveals the true cost not only to animals, but to human patients reliant on the results of animal research. His disturbing comparison of the costs and benefits of such research is given moral urgency by the vast number of lives at stake.' - Professor Emerita Priscilla N. Cohn, Associate Director, Oxford Centre for Animal Ethics
'Animal experimentation is invariably given a utilitarian justification: the overall good outweighs the overall evil. Knight's work is the definitive reply to such reasoning. He clearly demonstrates that rigorous examination and analysis of the data simply do not support such traditional, untested assumptions. Deftly written, the book is highly recommended to scientists, philosophers, veterinarians, students, and indeed any layperson with concerns regarding the morality of experimenting on nonhuman animals.' - Professor Mark H. Bernstein Purdue University College of Liberal Arts
'Since publishing my first book on animal ethics in 1980, I have repeatedly worried about the question of what entitles humans to use animals for invasive research when we would not allow such use of humans, even those people society values less than "normal" humans, such as the mentally defective, psychopaths, serial killers, child molesters, violent criminals and even the irreversibly comatose. If anything, protections for such people have increased. The only putative justification forthcoming for such animal use is a utilitarian, cost-benefit one, where benefit to humans clearly outweighs costs to the animals in terms of pain, suffering, loss of quality of life, or loss of life to the animals. Aside from the fact that we do not allow such an argument to count with regard to invasive use of humans, it has become ever-increasingly clear to me that the overwhelming majority of animal research does not in any case meet that test. Now, in this book, Andrew Knight convincingly provides a good deal of empirical data buttressing the failure of the cost/benefit argument. I recommend this book both to supporters of animal research and to its opponents. The former should utilize the book to challenge their assumptions, whilst the latter should master the arguments to create a solid basis for their opposition.' - Bernard E. Rollin, Colorado State University
'A timely and valuable contribution to the debate surrounding the use of animals in research. What makes this book stand apart from other similar works is its focus on evidence-based science. This book makes this important information easily accessible to both regulators and researchers. The wide range of topics covered in the book will also provide animal ethics committees with valuable new insights into cost-benefit assessments. This book should be required reading for undergraduate students intending to use animals as part of their course work. It should also serve as required reading for members of animal ethics committees whose remit is to review animal research proposals.' - Andre Menache, Veterinary Practice, 2011
'In an area of discussion often marked by emotion and polarisation, The Costs and Benefits of Animal Experiments brings thorough analyses of evidence associated with the use of animals for scientific endeavours. Therefore, this is an invaluable resource with which to rationally assess the scientific and ethical merits of animal experimentation within the life sciences and health research, and thus provide inspiration towards the appropriate consideration of alternatives to animal experimentation and testing.' - Brett A. Lidbury, The Australian National University
'Knight presents a wealth of data on the issue of costs and benefits associated with animal experiments and the book goes beyond its title: it also imparts some information on alternatives The format is excellent for a reader that may not wish to peruse the book from cover to cover as it is very well structured with chapters, each containing introductions, descriptive/informative sub-headings and useful summaries, making navigation through the book very easy. Some information is repeated, which means that chapters can be read stand-alone The book is a good starting point for a critical reader looking for an introduction to the subject area.' - Susanne Prankel, Animals, 2012
'Using a wealth of scientific information, Dr. Knights' book provides a critical and thorough examination of the topic of animal experimentation. The book is excellently organized and easy to follow. I highly recommend this book to anyone interested in medical research and human health.' - Aysha Akhtar, Food and Drug Administration, USA
<'An excellent critical review that boosts further discussions on the cost and benefits of animal experimentation. A 'must' for members of animal ethics committees.' - Jan van der Valk, UtrechtUniversity, The Netherlands
'Provides excellent background reading on the subject.' - Pete Wedderburn, The Telegraph, 2011
' well worth reading ' - Anthrozoös