© 2010
Air Transport and the European Union
Europeanization and its Limits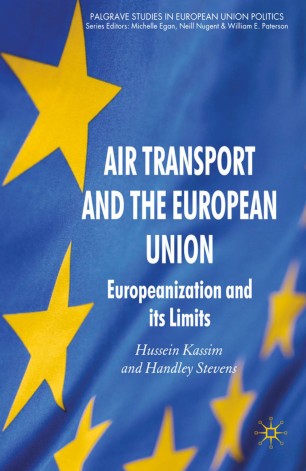 Table of contents
About this book
Introduction
Air Transport and the European Union examines the emergence of the EU as a major actor in aviation. It investigates how the EU was able to develop a common policy despite the existence of an established sectoral regime and against the opposition of most European states and their 'flag carriers'.
Keywords
Europe
European Union
European Union (EU)
Policy
revolution
transformation
transport
transport policy
Bibliographic information
Reviews
'A very important contribution to the theoretical debate about European integration and Europeanization ... the definitive account of how European air transport has been deregulated.'
- Martin Staniland, Professor of International Affairs, University of Pittsburgh, USA
"comprehensively researched . authoritative, well written and thoughtful"
- Daniel Calleja, Director for Air Transport, European Commission
' the most comprehensive history of the remarkable transformation of this sector to date; it is also a thorough analysis of the effects of EU politics on its member states and the outside world and a fascinating study of the conditions under which European authorities extended their competences. Anybody who believes that governments and company interests are sufficient to explain the dynamics of economic integration needs to read this book.'
- Cornelia Woll, Research Fellow, Sciences Po Paris, France and Max Planck Institute for the Study of Societies, Cologne, Germany
" a masterful treatment of the politics of international aviation that will be of great interest to political scientists, lawyers, and practitioners... Scholars will find an original perspective on Europeanization and its wider international context; practitioners will find a compelling narrative about the emergence of a new and powerful actor in international aviation."
- Yannis Karagiannis, Researcher, Institut Barcelona d'Estudis Internacionals (IBEI), Spain