© 2011
Cracking the Carbon Code
The Key to Sustainable Profits in the New Economy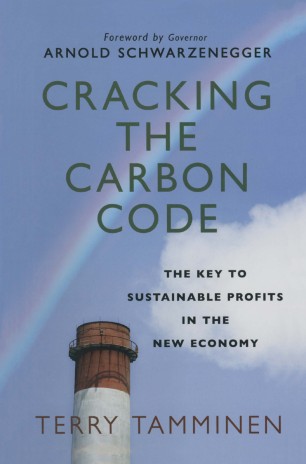 About this book
Introduction
Holds critical information that is needed by anyone who wants to understand how to make money from 'green' technology and how to avoid investments that will soon suffer from hidden carbon liabilities. Readers will learn to de-code a crucial component of this new economic driver - carbon credits, the world's first common currency.
Keywords
business
Carbon Trading
climate change
environment
Import
Investment
Investments
new economy
sustainability
Bibliographic information
Reviews
"In Cracking the Carbon Code, my friend Terry Tamminen provides us with a compelling playbook of how to restore our economic vitality and preserve our environment for generations to come. Businesses can save money and grow markets by reducing their carbon footprints. Governments can create public-private partnerships to invest in low carbon technologies, making schools, public facilities, and fleets into leaders of green building and transportation designs. Together, we can compete with each other to see which company, state, or nation can slash its carbon the most - on the path to reducing greenhouse gases at least 80% by 2050 - not waiting to see who goes first, but racing to the head of the pack." - Arnold Schwarzenegger, Governor of California, 2010, from the Foreword
"A healthy environment and strong economy are two sides of the same coin as Terry Tamminen proves in Cracking the Carbon Code. If companies follow his advice, they and their workers will prosper and build a safer, more sustainable planet for all living creatures to share." - Robert F. Kennedy, Jr., Waterkeeper Alliance "Businesses today must become more efficient and innovative to compete on a global scale. Tamminen unlocks the secrets of using carbon as a measuring stick of those trends, offering practical tools that any business can use to be sustainable for generations to come." - Bob Fisher, Director, Gap Inc.
"Finally, a book that provides new tools to manage both profits and carbon emissions; Terry Tamminen demonstrates that these are not conflicting goals but are actually intimately linked. A must read for business leaders who are committed to both a cleaner environment and a profitable business enterprise." - Carlos M. Gutierrez, Former U.S. Commerce Secretary "Terry Tamminen walks the talk...I would recommend this book to leaders of governments, corporations, NGOs, and all stakeholders in a sustainable future." - Clean Fleet Report "This book provides exactly the kind of practical, hopeful yet hard-nosed message we need to send about how to turn down the heat on this planet, starting now." - Mark Hertsgaard "Tamminen removes the mystery of Cracking the Carbon Code in one fascinating story after another as we follow the actions of corporate, government, and NGO leaders from California to China and from the United States to the UK...I would recommend this book to leaders of governments, corporations, NGOs, and all stakeholders in a sustainable future." - International Business Times "Tamminen's Cracking the Carbon Code points out step by step how corporations and businesses actually will save money at the same time as by shrinking their carbon footprint. There are excellent resources in the book that consumers will find as well such as carbon calculators. Tamminen's book provides an impressive and practical Quick-start guide including how allowances can be purchased from where and how they work; Resource Guide of Policy and Data-tracking Sources such as; Carbon Offset Developers and Validators, Carbon Calculators, and Carbon trading and Registries." - Examiner.com "The book is a valuable guide for many politicians, private executives, experts and academics to understand how to get things done. A codex is always a kind of complex sum: here is a key to "crack" it. This book should whet the appetite of many of those who have not fully mastered their "green latin". It is a key to sustainable profits in the new economy." - The Global Journal