© 2010
Islam, Women, and Violence in Kashmir
Between India and Pakistan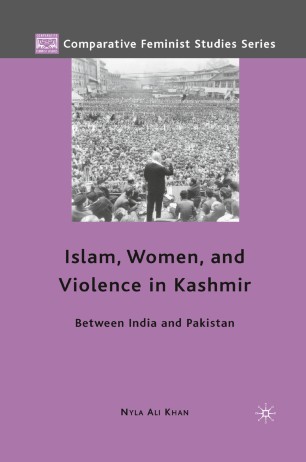 About this book
Introduction
Nyla Ali Khan, the granddaughter of the first Prime Minister of Jammu and Kashmir, Sheikh Mohammad Abdullah, gives an insider's analysis on the political and social turmoil that has eroded the ethos and fabric of Kasmiri culture. She monitors the effects of nationalist, militant, and religious discourses and praxes on a gender-based hierarchy.
Keywords
conflict
gender
India
Islam
Pakistan
violence
women
Bibliographic information
Book Title

Islam, Women, and Violence in Kashmir

Book Subtitle

Between India and Pakistan

Authors

Series Title

Comparative Feminist Studies Series

DOI

https://doi.org/10.1057/9780230113527

Copyright Information

Palgrave Macmillan, a division of Nature America Inc.

2010

Publisher Name

Palgrave Macmillan, New York

Hardcover ISBN

978-0-230-10764-9

Softcover ISBN

978-1-349-29075-8

eBook ISBN

978-0-230-11352-7

Edition Number

1

Number of Pages

XXI, 211

Number of Illustrations

0 b/w illustrations, 0 illustrations in colour
Reviews
"It is first the amazing work of Khan through dozens of testimonies of Kashmiri from various social levels, religions, ethnics and genders that make it a reference in its field. … I recommend Islam, Women, and Violence in Kashmir: between India and Pakistan for one who would wish to understand the complex history of the modern Kashmir." (Olivier Rey, reddirtreport.com, August, 2016)
"...The book reveals the complex realities of the beautiful and strife-torn valley, and how women continue to suffer at the hands of both state and non-state actors. Nyla probes the role of reactionary women's organisations such as the Dukhtaraan e Millat that use questionable tactics to propagate a patriarchal culture and enforce Islamic dress codes, robbing Kashmiri women of the freedom they traditionally enjoyed." -The Friday Times
'In reading a work with the depth and scope of Dr. Nyla Ali Khan's new book, Islam, Women, and Violence in Kashmir, one enters a work so compelling that, as with good fiction, time seems to stop. One travels through an imaginative landscape when one ventures into the unknown, and as a citizen of the USA, I had no preconceptions to inhibit me from a full-on absorption of what has transpired in the former princely state of Jammu and Kashmir.
First, and perhaps surprisingly to Dr. Khan, I found the personalities of two figures in the book even more compelling than the anguish of realizing that India and Pakistan took a region that was idyllic, and not broken, and 'fixed it' to open the door for religious combat, misogyny, and imperialist cannibalism by both those nuclear powers. What had been the glory of Kashmir - its incredible geography and cultural syncretism - has become its chief vulnerability in the political and bellicose spheres. But these two figures - the poet Lalla-Ded and the author's grandfather, Sheikh Mohammed Abdullah - impart such a potent and electric presence for the good that one ends up believing that their enduring examples will somehow keep the twin giants at bay.' - Jim Drummond of the Jim Drummond Law Firm in Oklahoma City, (http://nylaalikhan.wordpress.com/books/islam-women-and-violence-in-kashmir_between_india_and_pakistan/book-review-by-jim-drummond/)
'Nyla Ali Khan documents the resultant violence and disenfranchisement of the people of Jammu and Kashmir in her forceful cultural history entitled Islam, Women & Violence in Kashmir: Between India and Pakistan. Khan's intention, as stated in her Introduction, is to investigate the cultural and political forces at work in Jammu and Kashmir (J&K), as well as in India and Pakistan, that result in various nationalist understandings of Kashmiri identity, and in particular to critique the limited agency of women and the underclass within many of these identity constructions. Khan writes from a unique vantage point: she is not only a woman and a Kashmiri, but also the granddaughter of Sheikh Mohammad Abdullah, the first prime minister of J&K. Her interviews of key players in Kashmir, which she uses alongside the standard scholarly texts, oral histories, ethnographic field work, and personal and familial reminiscences, create this powerful book, at once a cry of pain for decades of oppression and violence, and a call to action for Kashmiri autonomy.' - Robin Field, South Asian Review
"I highly recommend Islam, Women, and Violence in Kashmir. Nyla Khan has written a very vivid, engaging, and insightful book analyzing the development of the Kashmiri crisis through literature, history, and ethnography while foregrounding the status of women. She leads the reader to a deeper understanding of this complex, continually unfolding crisis and clarifies issues that will need to be addressed as Kashmir moves on its future path." - World Literature Today
"Nyla Khan's Islam, Women, and Violence in Kashmir: Between India and Pakistan (2010) is extremely significant and timely for two reasons: first, she traces the political and cultural history of Kashmir's demand for selfdetermination through the category of 'Kashmiriyat,' which draws on the vibrant diversity of Kashmir's cultural and political heritage, and second, her project is feminist, drawing on the intersectionality of gender, sexuality, religious identity, and ethnicity in discussing the varied forms of resistance in Kashmir." - Pakistaniaat: A Journal of Pakistan Studies