© 2001
Investing for Middle America
John Elliott Tappan and the Origins of American Express Financial Advisors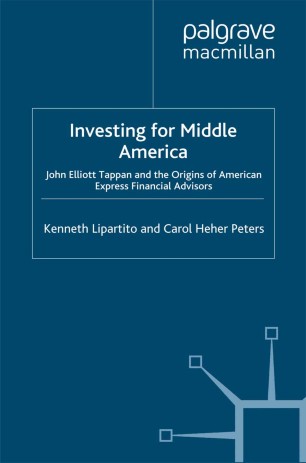 About this book
Introduction
In 1892, John Elliott Tappan, a twenty-four year old Minneapolis lawyer, was worried how people saved their money. Out of these concerns, Investors Syndicate was born, one of the first of a new type of financial institution designed to meet the savings needs of the average person. Here is the story of this financial pioneer, whose innovation has today grown into one of the nation's largest financial services companies, American Express Financial Advisors. The book draws on Tappan's diaries, business correspondence, and various family oral histories. Tappan's life, work and ideas chronicle the changes in spending and savings, work and leisure, the culture of politics and money, that have given rise to our modern notions of consumer finance.
Keywords
America
culture
design
foundation
knowledge
Polis
politics
prologue
trust
Bibliographic information
Reviews
"This book should be read by all those who aspire to become financial entrepreneurs and leaders in our financial community. John Elliott Tappan built an extraordinary financial institution (IDS). He did so by placing first the interests of his clients, and by having a long term view and a strong desire to democratize the savings and investment process. In the hurly-burly of today s financial markets, these attributes are often neglected, to the detriment of all." - Henry Kaufman, Henry Kaufman and Co., Inc.
"Biography, the history of an important institution, and insights into the social, cultural, and political history of the United States at the turn of the last century are all here in this book, and they are intertwined in a way that makes it compelling reading. It is rare for a book to succeed on so many levels. John Tappan was an extraordinary man with an extraordinary idea who made a remarkable contribution to the consumer financial services industry. But in another sense, he was an ordinary man. Part of the book s appeal is the ordinariness of the Tappan family and the glimpses that it gives into the lives of John and Winnie Tappan who worked together to start a business, raise a family, and deal with the hardships of their times." - Minnette E. Drumwright, School of Business, University of Texas at Austin
"The United States for two centuries has been blessed with one of the best and most democratic financial systems of any country. Investing for Middle America is a fascinating case study of the entrepreneurial insight and drive that gave rise to, sustained, and democratized our financial system. The very American life of John Tappan turns out to be a splendid choice for exploring the human side of the financial innovations that have given us the rich menu of financial services Americans now enjoy." - Richard Sylla, Stern School of Business, New York University
...much more than a celebratory biography and popular history...
-American Historical Review