© 2010
Globalization in the 21st Century
Labor, Capital, and the State on a World Scale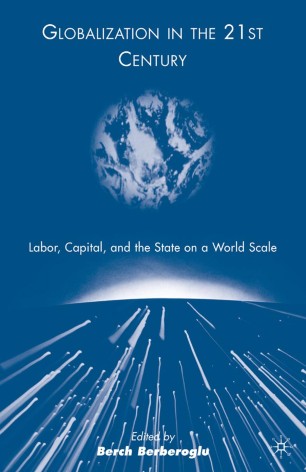 About this book
Introduction
This book examines the development and transformation of global capitalism in the late 20th and early 21st century. It analyzes the dynamics and contradictions of the global political economy through a comparative-historical approach based on class analysis. After providing a critical overview of neoliberal capitalist globalization over the past three decades, the book examines the emergence of new forces on the global scene and discusses the prospects of change in the global economy in a multi-polar direction in the decades ahead. The book concludes by focusing on the mass movements that are playing a central role in bringing about the transformation of global capitalism.
Keywords
capital
globalization
transformation
Bibliographic information
Reviews
"At a time of great turmoil in global financial markets and an impending worldwide economic depression, and as neoliberal capitalist globalization is being called into question, Berberoglu s latest book brings together some of the best minds in the field to sort out the crisis of global capitalism to provide the framework for the future course of globalization in the 21st century. An excellent compilation of articles that span the world, this book is bound to set the stage for a new round of discussion and debate on the prospects for the transformation of contemporary neoliberal globalization and the emergence of a multi-polar world order that is mass-based and democratic. I highly recommend this book for its pioneering role in providing us the tools for the critique of a failed system and the building of a new and just society." - Walda Katz-Fishman, Department of Sociology and Anthropology, Howard University, Washington, D.C.
"While many scholars have grappled with the pitfalls of neoliberal globalization and the future course of the global economy in the twenty-first century, few have offered much that is new on the subject. Berberoglu s latest book, however, is unique in the clarity and power of the ideas he and his contributors bring to the table. Taking on the basic tenets of neoliberalism and its disastrous effects on working people around the world, the ten essays lay bare the crisis of capitalist globalization and its bankrupt policies that have enriched a small minority of wealthy capitalists, while devastating the great majority of the world s people. A must-read for all those interested in the future of our planet, Berberoglu s book goes a long way in explaining what s wrong with our crisis-ridden global economy and society and what it will take to make it right. I give this book my highest praise." - Judy Aulette, Department of Sociology, University of North Carolina, Charlotte