© 2010
Medicine after the Holocaust
From the Master Race to the Human Genome and Beyond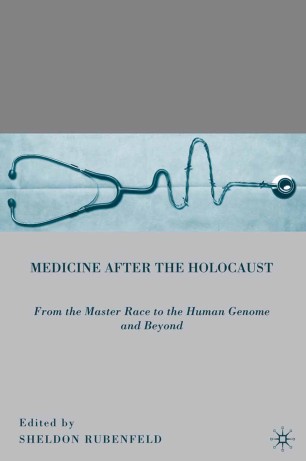 Table of contents
About this book
Introduction
Rubenfeld and the contributors to this collection posit that German physicians betrayed the Hippocratic Oath when they chose knowledge over wisdom, the state over the individual, a führer over God, and personal gain over professional ethics.
Keywords
Auschwitz
bioethics
Holocaust
individual
Judaism
medical ethics
Bibliographic information
Reviews
"Thought-provoking, even in areas well-trod in recent scholarship. Recommended." - CHOICE
"A timely and important tribute to all the human guinea pigs, and a stirring lesson to the conscience of the world to neveruse a person in experiments without informed consent." - Eva Mozes Kor, Survivor of the deadly experiments of Josef Mengele, the "Angel of Death"
"Medicine After The Holocaust is a book brimming with wisdom. It stretches your mind - with an infinite array of tangible examples and superbly reasoned arguments - as it stretches your heart. Whether you are a physician or not, you read this book and you want to be a better person." - Rabbi Joseph Telushkin, Author of Jewish Literacy and A Code of Jewish Ethics: two volumes, You Shall Be Holy and Love Your Neighbor as Yourself
"This book offers important insights into the enduring question: how were doctors and medical personnel who were trained to heal and save lives able to become such an integral part of the murder process in Nazi Germany.Theprominent physicians and scientistswho contributed to this bookforce us to once againtograpple with difficult issues. Both those from the healing arts and those from outside of them will find themselves challenged by these essays." - Deborah E. Lipstadt, Ph.D., Dorot Professor of Modern Jewish and Holocaust Studies, EmoryUniversity
"This is a stunning book. Quietly, it sets forth alarming accounts, and makes a steadily building argument. It brings a kind of awakening." - Michael Novak, internationally knowntheologian, author, and winner of the Templeton Prize in 1994