The Political Economy of India's Growth Episodes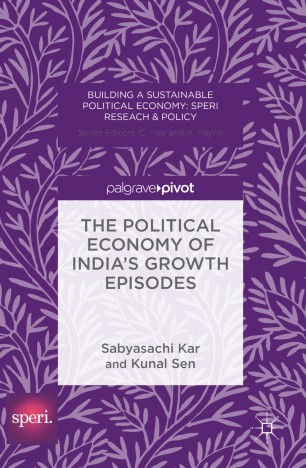 About this book
Introduction
'This book is different from most other attempts to understand the politics of Indian economic development. Breaking down the last 65+ years of Indian development into several episodes of growth, it provides a rich set of insights into the political economy of the Indian development process and is a valuable addition to the literature.' –Pranab Bardham, University of California, Berkeley, USA
'Sustained economic growth in the world's largest democracy is critically important to human well-being but the ups and downs of growth in India are not well-understood. This book provides a fresh and insightful approach to understanding what drives the starts of booms and the onset of slowdowns.' –Lant Pritchett, Harvard University, USA
'This is a little book with big arguments. The authors' explanation of the changing character of the deals done between political and business elites makes for the most original contribution to studies of the political economy of Indian development since Pranab Bardhan's seminal work of the early 1980s' –John Harriss, Simon Fraser University, Vancouver, Canada This book moves beyond the usual economic analysis of the Indian growth story and provides a fresh perspective on the determinants of growth episodes in post-independence India, based on its political economy. Using a robust and novel technique, the authors identify four such episodes during this period. The first, running from the fifties to 1992, was mostly characterized by economic stagnation, with a nascent recovery in the eighties. The second, covering the period 1993 to 2001, witnessed the first growth acceleration in the economy. A second acceleration ran from 2002 to 2010. The fourth and final episode started with the slowdown in 2010 and continues to this day. The book provides a theoretical framework that focuses on rent-structures, institutions and the polity, and demonstrates how changes in these can explain the four growth episodes. Kar and Sen argue that the transitions from one growth episode to another can be explained by the bi-directional relationship between growth outcomes and institutional arrangements, and by the manner in which institutional arrangements and their transitions are determined by the political bargains struck between the elite groups in Indian society.
Sabyasachi Kar is Associate Professor at the Institute of Economic Growth, India, and Honorary Research Fellow at the University of Manchester, UK. He has published a number of books and academic articles on macroeconomics, growth and development economics. He is Associate Editor for the Indian Growth and Development Review.
Kunal Sen is Professor of Development Economics at the Global Development Institute, University of Manchester, UK, and Joint Research Director at the Effective States and Inclusive Development (ESID) Research Centre. He won the Sanjaya Lall Prize in 2006, and the Dudley Seers Prize in 2003.
Keywords
Indian independence
Deals space
Rent pace
Growth acceleration
Growth maintenance
Growth collapse
Economic stagnation
Nascent recovery
Socialism
Manufacturing
Bibliographic information