© 2016
Faith-Based Violence and Deobandi Militancy in Pakistan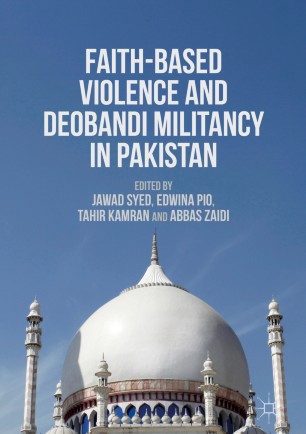 About this book
Introduction
'The contributions to this valuable collection provide useful insight into the background of "faith-based militancy and terrorism in Pakistan and across the globe," distinguishing crucially the Deobandi dimension of radical Islam that has been fostered by Saudi Arabia, with US support in Pakistan particularly in the 1980s during the harsh and brutal Zia-ul-Haq regime. These developments pose a severe threat to Islamic society and beyond, and merit careful attention by those who hope to understand today's complex and dangerous world.'
-Professor Noam Chomsky, Massachusetts Institute of Technology, USA
'This is a most timely volume which provides historical depth and nuance to the understanding of Islamic militancy and violence in Pakistan. Such an awareness is often lacking in contemporary analyses. The empirical data provided in a series of incisive and insightful chapters enables an informed account to emerge of the causes and consequences of the growing influence of Deobandi Islam within the country and its transnational linkages. The volume enables the reader to grasp the complex factors which reduce the space for pluralism, despite inherited traditions of tolerance. The book is a must read for everyone seeking to understand contemporary Pakistan and to assess its future trajectory.'
-Professor Ian Talbot, University of Southampton, UK
'There has long been a need for a study tracing the development of Deobandi school of thought in the South Asian subcontinent in both the colonial and the post-colonial eras. 'Faith-Based Violence and Deobandi Militancy in Pakistan' will fill this lacuna through an inter-disciplinary and historically informed study of Deobandi thinking and organization.'
-Professor Ayesha Jalal, Tufts University, USA
'This book is a landmark in scholarship on Islam, Pakistan and militancy. It will provide necessary insights into the genesis of violence in the name of religion and sect which scholars, ordinary readers and decision-makers can use to understand why Pakistan's name is often in the headlines for the wrong reasons.'
-Professor Tariq Rahman, Beaconhouse National University, Lahore, Pakistan
This book documents and highlights the Deobandi dimension of extremism and its implications for faith-based violence and terrorism. This dimension of radical Islam remains largely ignored or misunderstood in mainstream media and academic scholarship. The book addresses this gap. It also covers the Deobandi diaspora in the West and other countries and the role of its radical elements in transnational incidents of violence and terrorism. The specific identification of the radical Deobandi and Salafi identity of militants is useful to isolate them from the majority of peaceful Sunni and Shia Muslims. Such identification provides direction to governmental resources so they focus on those outfits, mosques, madrassas, charities, media and social medial channels that are associated with these ideologies. This book comes along at a time when there is a dire need for alternative and contextual discourses on terrorism.
Jawad Syed, PhD, is Professor of Organisational Behaviour and Diversity Management at the University of Huddersfield, UK. He is the founder and co-director of the Global Centre for Equality and Human Rights (GCEHR), UK. He is also a programme chair of the Gender, Race and Diversity in Organisations SIG of the European Academy of Management.
Edwina Pio (PhD, BEd, MNZAC) is Professor of Diversity at the Business & Law School, Auckland University of Technology, New Zealand, and is Visiting Professor at Boston College, USA. She is co-director of the Global Centre for Equality and Human Rights (GCEHR), UK.
Tahir Kamran, PhD, is Professor and Head of the Department of History at Government College University Lahore, Pakistan, where he founded the biannual journal The Historian. From 2013-2015, he was Iqbal Fellow at the University of Cambridge, UK, as Professor in the Centre of South Asian Studies.
Abbas Zaidi is Tutor in Media Studies at the School of the Arts & Media, University of New South Wales, Australia. He has worked as a journalist and teacher in Pakistan, Brunei Darussalam, and Australia.
Keywords
Deobandi
radical Islam
Jihadist
Militancy
Pakistan
Salafi
Sectarianism
Takfari
Terrorism
South Asia
Wahhabi
transnational terrorism
Bibliographic information
Book Title

Faith-Based Violence and Deobandi Militancy in Pakistan

Editors

Jawad Syed
Edwina Pio
Tahir Kamran
Abbas Zaidi


DOI

https://doi.org/10.1057/978-1-349-94966-3

Copyright Information

The Editor(s) (if applicable) and The Author(s)

2016

Publisher Name

Palgrave Macmillan, London

eBook Packages

Political Science and International Studies Political Science and International Studies (R0)

Hardcover ISBN

978-1-349-94965-6

Softcover ISBN

978-1-349-95689-0

eBook ISBN

978-1-349-94966-3

Edition Number

1

Number of Pages

XXI, 546

Number of Illustrations

0 b/w illustrations, 0 illustrations in colour
Reviews
"The contributions to this valuable collection provide useful insight into the background of "faith-based militancy and terrorism in Pakistan and across the globe," distinguishing crucially the Deobandi dimension of radical Islam that has been fostered by Saudi Arabia, with US support in Pakistan particularly in the 1980s during the harsh and brutal Zia-ul-Haq regime. These developments pose a severe threat to Islamic society and beyond, and merit careful attention by those who hope to understand today's complex and dangerous world." (Professor Noam Chomsky, Massachusetts Institute of Technology, USA)
"This is a most timely volume which provides historical depth and nuance to the understanding of Islamic militancy and violence in Pakistan. Such an awareness is often lacking in contemporary analyses. The empirical data provided in a series of incisive and insightful chapters enables an informed account to emerge of the causes and consequences of the growing influence of Deobandi Islam within the country and its transnational linkages. The volume enables the reader to grasp the complex factors which reduce the space for pluralism, despite inherited traditions of tolerance. The book is a must read for everyone seeking to understand contemporary Pakistan and to assess its future trajectory." (Professor Ian Talbot, University of Southampton, UK)
"There has long been a need for a study tracing the development of Deobandi school of thought in the South Asian subcontinent in both the colonial and the post-colonial eras. 'Faith-Based Violence and Deobandi Militancy in Pakistan' will fill this lacuna through an inter-disciplinary and historically informed study of Deobandi thinking and organization." (Professor Ayesha Jalal, Tufts University, USA)
"This book is a landmark in scholarship on Islam, Pakistan and militancy. It will provide necessary insights into the genesis of violence in the name of religion and sect which scholars, ordinary readers and decision-makers can use to understand why Pakistan's name is often in the headlines for the wrong reasons." (Professor Tariq Rahman, Beaconhouse National University, Lahore, Pakistan)