© 2016
Low Carbon Urban Infrastructure Investment in Asian Cities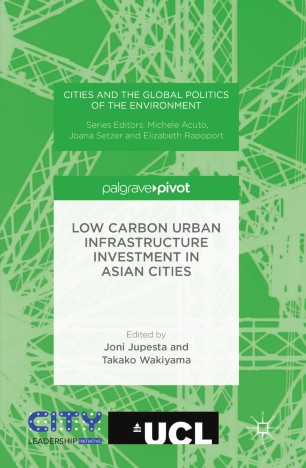 About this book
Introduction
Several Asian cities have already invested in initiatives to build and promote Green Cities. Owing to the limited capacity of local governments, the funding of urban infrastructure has become a critical issue. Against this background, this book explores a new funding mechanism which demands the engagement of many stakeholders, including public-private partnerships.
This book offers guidance on how cities in selected countries can play a key role in the green growth agenda, by stimulating growth through smart investment in urban infrastructure such as through building a physical infrastructure, offering financial and tax incentives, and heightening society's awareness of a sustainable lifestyle.
Joni Jupesta is a Visiting Research Fellow at United Nations University. Previously, he held a two-year post as an Environment Advisor at Sinar Mas Agribusiness in Indonesia (2013-2015). Prior to that, he was a Japan Society for the Promotion of Science-UNU Postdoctoral Fellow (2011-2013) and UNU-IAS Postdoctoral Fellow (2010-2011) at the United Nations University (UNU) in Tokyo, Japan. An Indonesian citizen, in 2010 he obtained his Ph.D. in Management Science and Technology from Tohoku University, Japan. He contributed two policy briefs to Rio+20: Green economy and Institutional Framework towards Sustainable Development in Indonesia context. Further, he has received several awards for his research work in innovation for sustainability, including but not limited to: the Green Talent Award in 2012 from the German Federal Ministry of Education and Research (BMBF), and the Mitra Award in 2013 from the Asia Pacific Network for Global Change Research (APN), and the BIARI Seed Grant Award 2014 from Brown University, USA.
Takako Wakiyama is Researcher of Climate and Energy Area and Green Economy Area at the Institute for Global Environmental Strategies (IGES). Her research focuses on climate and energy policies and economics at national and city level. She has conducted policy impact analysis, scenario analysis and simulation analysis to estimate economic and environment risks and benefits of energy efficiency and renewable energy.
Keywords
Green investment
low carbon society
asia
infrastructure
carbon footprint
Bibliographic information