Ombudsmen at the Crossroads
The Legal Services Ombudsman, Dispute Resolution and Democratic Accountability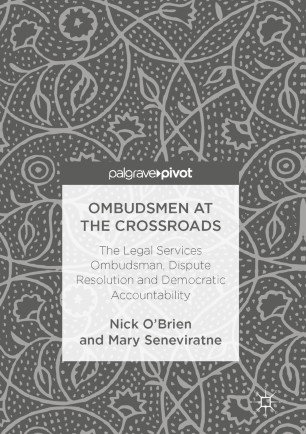 About this book
Introduction
'This insightful study shines a critical spotlight on the evolution of the ombud, that well-studied but little-understood creature. Using legal services regulation as a case study, the authors trace the shift from democratic accountability to consumer empowerment evident in the set-up of ombuds today. In doing so, they not only expose the impoverishment brought about by this new dispute resolution focus but consider what's at risk to society and our administrative justice system. This is a sobering reminder of the need to retain the collective memory of the history and purpose of the ombud institution, which is otherwise in danger of being lost.'
– Margaret Doyle, Senior Research Officer, UKAJI, University of Essex, UK
'This important study locates the story of the Legal Services Ombudsman within the socio-political and professional contexts from which it emerged. By drawing on a range of conceptual insights into the nature of adjudicative law within liberal democracies, it exposes the profound tensions that characterise current dilemmas facing ombuds(man) systems.'
– Kevin Kearns, Barrister and former Senior Lecturer, University of Central Lancashire, UK
'Ombudsmen at the Crossroads' is an excellent review of the staged introduction and development of independent complaint-handling in the legal sector. But this book is also a timely addition to ombudsman studies more generally, reminding us of the different roles that ombudsman schemes can perform.'
– Richard Kirkham, Senior Lecturer in Public Law, University of Sheffield, UK
This book charts the evolution of the Legal Services Ombudsman for England and Wales. Established in 1990, it had a statutory remit that explicitly recognized its dual responsibility for consumer dispute resolution and democratic accountability. It was replaced in 2010 by a very different type of ombudsman institution. The book describes how the Ombudsman reconciled its different roles and how far it succeeded in changing the mentality of the legal profession. The authors relate the Ombudsman's successes and failures to current debates facing the ombudsman and regulatory community, and highlight the continuing potential of the ombudsman institution. The ombudsman institution emerges as a 'third way' between the courts and various forms of alternative dispute resolution, and as a creative and democratic means of responding to public grievance.
Nick O'Brien is an Honorary Research Fellow at Liverpool University, UK. He was formerly Legal Director of the Disability Rights Commission.
Mary Seneviratne is Emeritus Professor of Law, Nottingham Trent University, UK. She was formerly Member of the Administrative Justice and Tribunals Council. She is author of The Legal Profession: Regulation and the Consumer (1999), and Ombudsmen: Public Services and Administrative Justice (2002).
Keywords
Consumerism
Professional regulation
Adjudication
Legal pragmatism
Socio-legal studies
Bibliographic information