© 2016
Globalization, Agriculture and Food in the Caribbean
Climate Change, Gender and Geography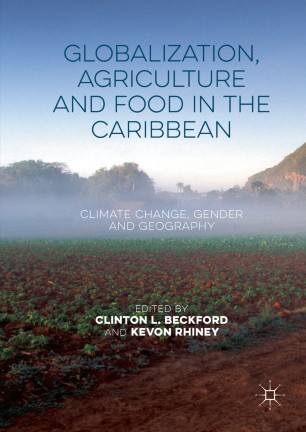 Table of contents
About this book
Introduction
The last decade has seen a growing body of research about globalization and climate change in the Caribbean. This collection is a significant addition to the literature on a topic that is of critical importance to the region. It explores research from a number of Caribbean islands dealing with a range of issues related to agriculture and food in the context of globalization and climate change. Using a broad livelihoods perspective, the impacts on rural livelihoods are explored as well as issues related to community level resilience, adaptability and adaptations. The volume is strengthened by gendered analyses of issues and discussions informed by a diverse range of research methods and methodologies. Scholars of Caribbean studies and studies pertaining to social, cultural, economic and environmental issues facing Small Island Developing States (SIDS) will greatly benefit from this book.
Clinton L. Beckford is a geographer and Associate Professor at the University of Windsor, Canada. His research interests include food and agriculture, rural livelihoods, sustainable agriculture, food and nutrition security, and Caribbean small-scale farming systems. He co-authored Domestic Food Production and Food Security in the Caribbean: Building Capacity in and Strengthening Local Food Production Systems (Palgrave Macmillan, 2013)
Kevon Rhiney is a Lecturer in the Department of Geography and Geology at the Mona Campus, University of the West Indies. He is President of the Jamaican Geographical Society (JGS), a former Commonwealth Fellow and Visiting Academic at Kellogg College, University of Oxford, UK. His research includes agricultural change and rural development, market liberalization and food security, climate change adaptation and mitigation, human security, and sustainable development.
Keywords
Geography
Climate Change
Agriculture
Food security
Adaptation
Resilience
Rural
St. Kitts
St. Lucia
St. Vincent
Bibliographic information