Under Pressure
Coal Industry Rhetoric and Neoliberalism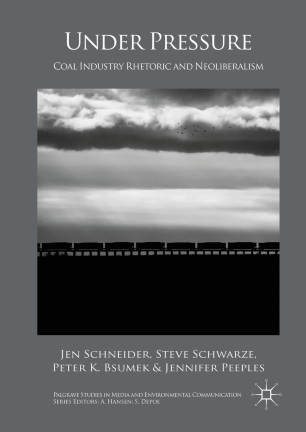 About this book
Introduction
This book examines five rhetorical strategies used by the US coal industry to advance its interests in the face of growing economic and environmental pressures: industrial apocalyptic, corporate ventriloquism, technological shell game, hypocrite's trap, and energy utopia. The authors argue that these strategies appeal to and reinforce neoliberalism, a discourse and set of practices that privilege market rationality and individual freedom and responsibility above all else. As the coal industry has become the leading target and leverage point for those seeking more aggressive action to mitigate climate change, their corporate advocacy may foreshadow rhetorical strategies available to other fossil fuel industries as they manage similar economic and cultural shifts. The authors' analysis of coal's corporate advocacy also identifies contradictions and points of vulnerability in the organized resistance to climate action as well as the larger ideological formation of neoliberalism.
Jen Schneider is Associate Professor of Public Policy and Administration at Boise State University, USA. Her work examines the communication of scientific, technological, and environmental controversies. She is particularly interested in controversial or contested energy development and practices, such as hydrofracturing, coal mining, and nuclear power, and the role of rhetoric and expertise in defending such practices.
Steve Schwarze is Professor and Chair in the Department of Communication Studies at the University of Montana, USA. His research examines the rhetoric of environmental controversies. His research appears in prominent outlets for rhetoric and environmental communication, such as the Quarterly Journal of Speech, Rhetoric & Public Affairs and Environmental Communication.
Peter K. Bsumek is Associate Professor in the School of Communication Studies at James Madison University, USA. His research and teaching focus on rhetoric, advocacy, and processes of decision-making, with a specific emphasis in environmental communication. He is the 2014 recipient of the J. Robert Cox Award in Environmental Communication and Civic Engagement.
Jennifer Peeples is Professor of Communication Studies at Utah State University, USA. Her area of research is environmental rhetoric with a focus on the discourse and images used in the construction of environmental controversies. She has won a number of awards for her research and is on the editorial board for Environmental Communication and the Quarterly Journal of Speech.
Keywords
Apocalyptic rhetoric
clean coal
coal
climate change communication
climate change communication
coal industry
corporate advocacy
corporate communication
corporate rhetoric
divestment
energy
energy policy
energy poverty
energy studies
environmental communication
fossil fuels
neoliberalism
war on coal
Bibliographic information
DOI

https://doi.org/10.1057/978-1-137-53315-9

Copyright Information

The Editor(s) (if applicable) and The Author(s) 2016

Publisher Name

Palgrave Macmillan, London

Print ISBN

978-1-137-53314-2

Online ISBN

978-1-137-53315-9