© 2016
The English Language in Hong Kong
Diachronic and Synchronic Perspectives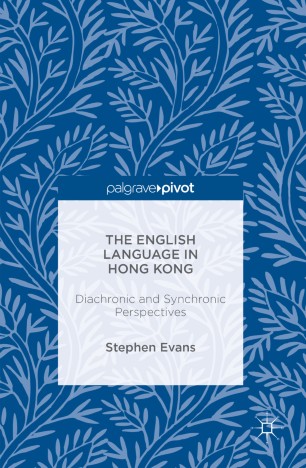 About this book
Introduction
The English Language in Hong Kong is a fascinating account which compares the role(s) English and Chinese have played and continue to play in Hong Kong. The book shows how the processes of colonialism and globalisation have influenced the changing roles of the languages and considers how the increasing influence of China itself will influence language choice. Will Putonghua come to replace Cantonese and English? This superbly researched book is a must-read for anyone interested in Hong Kong's history and future.
— Andy Kirkpatrick, Professor, Griffith University, Australia
The English Language in Hong Kong: Diachronic and Synchronic Perspectives by Stephen Evans of the Hong Kong Polytechnic University offers an authoritative and highly readable history of the changing profile of languages in Hong Kong, with specific focus on English and Cantonese and their interactions in the key sectors of government, education, and business. It is a monumental achievement, by far the most thoroughgoing account to date of language in Hong Kong, making clear the great ingenuity of the Hong Kong people in using their linguistic resources to both express and create their unique character and culture, and to achieve success in local, regional, and international contexts.
— Martha Pennington, Professor, School of Oriental and African Studies, University of London
This book presents an empirically-grounded sociolinguistic history of the English language in Hong Kong in the past 170 years. Using substantial sets of diachronic and synchronic data, it traces the changing status and functions of English in relation to spoken Cantonese, Mandarin and written Chinese in the key domains of government, education and business. The author tracks the rise of English-knowing bilingualism in the city's Chinese community and explores the evolutionary dynamics of Hong Kong English. He also speculates on the future of English in the territory, particularly after 2047 when the 'one country, two systems' framework established by the Sino-British Joint Declaration is dismantled. Researchers and students working in the fields of sociolinguistics, English as a global language, world Englishes, applied linguistics and English-language education will find this book provides valuable information and insights about the uses and users of English in colonial and post-colonial Hong Kong. More generally, it makes a unique contribution to the literature on the diffusion and diversification of English worldwide.
Stephen Evans is a Professor in the Department of English at The Hong Kong Polytechnic University, China, where he teaches courses in sociolinguistics, English as an international language and ELT syllabus and materials design. He has published widely in the areas of language policy, world Englishes, English for specific purposes and language in education.iv>
Keywords
Globalisation
Post-colonial Englishes
Language in education
Putonghua
Cantonese
Asia
Asian languages
diachronic
English
English language
language
linguistics
literature
sociolinguistics
synchronic
Bibliographic information
Reviews
"The English Language in Hong Kong is a fascinating account which compares the role(s) English and Chinese have played and continue to play in Hong Kong. The book shows how the processes of colonialism and globalisation have influenced the changing roles of the languages and considers how the increasing influence of China itself will influence language choice. Will Putonghua come to replace Cantonese and English? This superbly researched book is a must-read for anyone interested in Hong Kong's history and future." (Andy Kirkpatrick, Professor, Griffith University, Australia)
"The English Language in Hong Kong by Stephen Evans of the Hong Kong Polytechnic University offers an authoritative and highly readable history of the changing profile of languages in Hong Kong, with specific focus on English and Cantonese and their interactions in the key sectors of government, education, and business. It is a monumental achievement, by far the most thoroughgoing account to date of language in Hong Kong, making clear the great ingenuity of the Hong Kong people in using their linguistic resources to both express and create their unique character and culture, and to achieve success in local, regional, and international contexts." (Martha Pennington, Professor, School of Oriental and African Studies, University of London)