© 2016
Gender Politics in US College Athletic Departments
The Case of the University of Minnesota Merger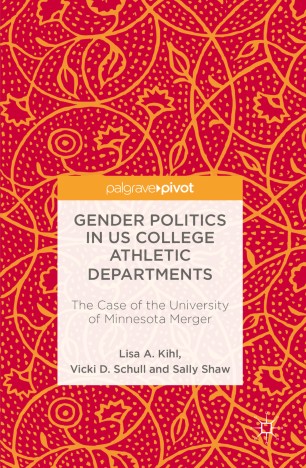 About this book
Introduction
This book examines the gendered politics in the context of a merger of the women's and men's athletic departments at the University of Minnesota over a ten year plus span. Examining the athletic department merger helps us understand women's continual under-representation in University athletics despite Title IX legislation passing 40 years ago. Using interview with organizational stakeholders and archival document data, the book explores how organizational change in the form of a merger is gendered with relation to the premerger, merged, post-merger stages.
Lisa A. Kihl is Associate Professor of Sport Management in the School of Kinesiology at the University of Minnesota, USA. Her teaching interests intersect sport ethics, policy, and governance. She has published in the areas of sport corruption, corporate social responsibility, athletes and governance, and leadership and organizational change in sport.
Vicki Schull is Assistant Professor in the Department of Human Performance at Minnesota State University, Mankato, USA. Her research interests include leadership in sport, gender relations in sport, issues in intercollegiate athletics, and organizational change in sport.
Sally Shaw is Senior Lecturer in the School of Physical Education, Sport and Exercise Sciences at the University of Otago, New Zealand.She has published widely in leading sport management journals. Her research interests include gender relations in sport organisations, sport organization governance, and the development of anti-homophobia policies in sport.
Keywords
organizational change
gender equity
Title IX
merger processes
merger stages
gendered relational process
Sociology of Sport
anthropology
education
ethnography
gender
politics
social science
sociology
university
Bibliographic information