Transnational Advocacy Networks in the Information Society
Partners or Pawns?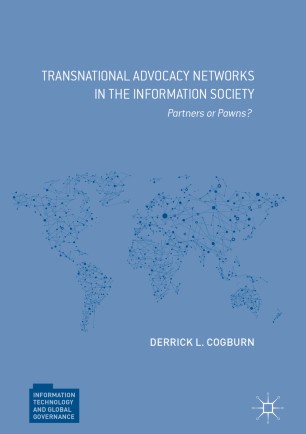 Table of contents
Transnational Advocacy Networks in the Global Information Society: Partners or Pawns?

Global Regime Restructuring: Telecom, Internet Governance and the Information Society

Transnational Advocacy Networks in the WSIS "Revolution" and Post-WSIS Institutions

Snowden and Implications for Multistakeholder Global Governance of an Information Society
About this book
Introduction
This book examines the role of transnational advocacy networks in enabling effective participation for individual citizens in the deliberative processes of global governance. Contextualized around the international conference setting of the United Nations-sponsored World Summit on the Information Society (WSIS) in 2003 and 2005, the book sees epistemic communities and information and communication technologies (ICTs) as critical to the effectiveness of this important organizational form. Historically, governments have dominated the official "conference diplomacy" surrounding these World Summits. However, reflecting the UN General Assembly resolution authorizing WSIS, transnational civil society and private sector organizations were invited to participate as official partners in a multistakeholder dialogue at the summit alongside the more traditional governments and international organizations. This book asks: are transnational advocacy networks active in the global information society influential partners in these global governance processes, or merely symbolic tokens—or pawns? Cogburn explores the factors that enabled some networks—such as the Internet Governance Caucus—to persist and thrive, while others failed, and sees linkages with epistemic communities—such as the Global Internet Governance Academic Network—and ICTs as critical to network effectiveness.
Keywords
communication
development
evolution
Governance
information society
Internet
mechanism
methods
Nation
network
political science
politics
social science
Technologie
Transnational
Bibliographic information