© 2016
Virtual Workers and the Global Labour Market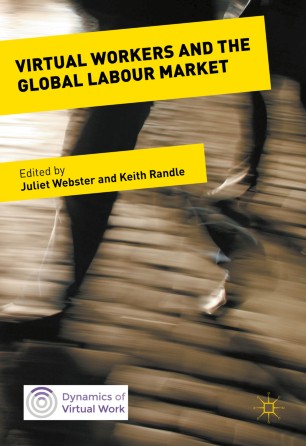 Table of contents
About this book
Introduction
The emerging world of virtual work is not tied to physical workplaces or particular locations, but is dispersed and footloose. It is frequently precarious, and blurs the boundaries between work and non-work, production and consumption.
Contributors to this wide-ranging volume of case studies identify the growing and diverse army of virtual workers. Building from an overarching introduction which discusses the salient features of virtual work, this collection considers the challenges in analysing the class position of virtual workers.
Virtual Workers and the Global Labour Market features international examples of emerging occupations and working conditions in new media, gaming, journalism, advertising and branding, software development and offshore services. Cross-disciplinary insights from across the social sciences inform contributions on labour market entry, employment relations, precariousness, the dynamics of virtual teams, and cyberbullying, in order to illustrate the diversity of virtual work, its circumstances and its labour force.
Keywords
labour
social dynamics
labour marketing
information technology
media
Cyberbullying
digital work
ICTs
Internet
Crowdsourcing
Free labour
Employment
cultural work
Immaterial labour
gender
class
identity
business management
precariousness
footloose industry
Bibliographic information
Reviews
"The reader is treated to a discerning presentation of how work has become a fluid concept, encompassing elements such as play, consumption, and social reproduction, traditionally left outside the work/labour rubric. … This is an informative book that does bring ideas to the table, highly recommended to someone wanting to get a feel of the field … ." (Konstantinos Kerasovitis, Information, Communication & Society, Vol. 21 (12), 2018)