© 2016
Reclaiming Education
Moving Beyond the Culture of Reform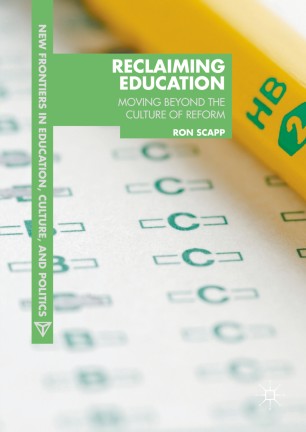 About this book
Introduction
This book is an appeal to those directly and indirectly involved in education reform to reconsider the very nature of education as a process of transformation and not, as the neoliberal corporate model insists upon, as a "product." By using Paulo Freire's fundamental principle of understanding "education as the practice of freedom," and expanding upon it with bell hooks' own spiritual understanding of that principle, this book offers readers the opportunity to rethink what education is, and what it is not. Utilizing the work of diverse thinkers and critics, the book lays out a criticism of neoliberalism's profound influence on education reform and our culture generally. It reaffirms the political and ethical import of education for individuals and for our nation as a whole.
Keywords
Education
democracy
reform
neoliberalism
the market
freedom
information
knowledge
racism
teacher quality
high-stake testing
social conservatism
Paulo Freire
bell hooks
Henry A. Giroux
Stanley Aronowitz
culture
curriculum
education
evaluation
philosophy
policy
quality
school
social science
society
sociology
vocational education
Bibliographic information
Reviews
Praise to come.
"Are American professors too immersed in the arcana of their subjects and the advancement of their professional lives to give a thought to teaching? Not Ron Scapp. He's written a clear, thoughtful, humane, and generous manifesto about what we need to do to make American education worthy of our students and of the nation's best promise. A splendid book." (Mark Edmundson, Professor of English, University of Virginia, USA )
"This book is perfectly suited to reclaiming education as a public good outside of the tepid if not disingenuous language of educational reform now used by conservatives, the financial elite, and hedge fund managers. Thoughtful and full of crucial insights, this book is hopeful regarding what it means to once again connect education with critical thought, social and economic justice, and democracy itself. This is a must read book for anyone concerned about the right-wing attacks waged against education and what it might mean to resist such attacks." (Henry Giroux, Professor of English and Cultural Studies and Global TV Network Chair in Communications, McMaster University, Canada )