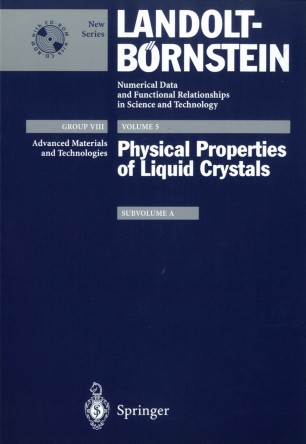 Table of contents
About this book
Introduction
Nature of liquid crystalline state has been of particular interest to representatives of different branches of natural sciences (physics, chemistry, biology) since its discovery in 1888. The most detailed study of liquid crystals (LC) began in the 1970s when the significance of LC for technology (electro-optical devices, thermography) was shown. Volume VIII/5A Physical properties of liquid crystals gives a comprehensive compilation of properties of liquid crystalline compounds. The extensive data recorded within can be used for technical applications as well as for basic research. Liquid crystals are already well established organic materials for electrooptical applications such as displays (LCD) or shutters, where the exact knowledge of a multitude of various properties is of paramount importance. Nowadays, liquid crystals are being studied for new applications, ranging from reflectors to photoconductors, and many more. Again, the solid knowledge of numerical data helps in these fields research. Even researchers who are not working on liquid crystals directly, but rather on property prediction of basic organic materials, will find a very good set of data for structure-property relationships in these volumes.
Volume VIII/5A Physical properties of liquid crystals is an independent logical addition to volume IV/7 "Liquid Crystals" (New Series). Volume IV/7 reviews data on temperatures and enthalpies of phase transitions. Volume VIII/5A contains data on physical properties for 2900 liquid crystalline compounds.
All the data presented in volume VIII/5A have been carefully extracted, validated and compiled from ca. 1500 references. The references and common information on compounds can be found in the LiqCryst database (http: // liqcryst.chemie.uni-hamburg.de).
Keywords
Diffusion
Enthalpie
compressibility
density
dielectric permittivity
diffusion coefficient
heat capacity
magnetic susceptib
order parameter
polarizability
refractive indes
sound velocity
surface tension
thermal conductivity
viscosity
Bibliographic information
DOI

https://doi.org/10.1007/b71736

Copyright Information

Springer-Verlag Berlin Heidelberg 2003

Publisher Name

Springer, Berlin, Heidelberg

eBook Packages

Physics and Astronomy

Print ISBN

978-3-540-43365-1

Online ISBN

978-3-540-45929-3

Series Online ISSN

1619-4810
Industry Sectors