Doubled Haploid Production in Crop Plants
A Manual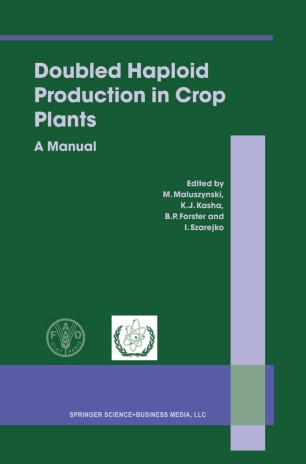 Table of contents
Production of doubled haploids in crop plants. An introduction

Protocols for major crops

Barley

Wheat

Maize

Rice indica/japanica

Triticale

Rye

Oat

Durum wheat

Timothy

Ryegrass and other grasses

Rapeseed

Broccoli

Other Brassicas

Tobacco

Potato

Linseed/flax

Sugar beet

Asparagus

Onion

Apple

Aspen

Cork oak

Citrus

Published doubled haploid protocols in plant species

Application of doubled haploid production techniques
About this book
Introduction
The production of doubled haploids has become a necessary tool in advanced plant breeding institutes and commercial companies for breeding many crop species. However, the development of new, more efficient and cheaper large scale production protocols has meant that doubled haploids are also recently being applied in less advanced breeding programmes. This Manual was prepared to stimulate the wider use of this technology for speeding and opening up new breeding possibilities for many crops including some woody tree species. Since the construction of genetic maps using molecular markers requires the development of segregating doubled haploid populations in numerous crop species, we hope that this Manual will also help molecular biologists in establishing such mapping populations. For many years, both the Food and Agriculture Organization of the United Nations (FAO) and the International Atomic Energy Agency (IAEA) have supported and coordinated research that focuses on development of more efficient doubled haploid production methods and their applications in breeding of new varieties and basic research through their Plant Breeding and Genetics Section of the Joint F AO/IAEA Division of Nuclear Techniques in Food and Agriculture. The first F AO/IAEA scientific network (Coordinated Research Programme - CRP) dealing with doubled haploids was initiated by the Plant Breeding and Genetics Section in 1986.
Keywords
Brassica napus L.
Embryo
Hordeum vulgare L.
Linum usitatissimum L.
Triticale
Triticosecale Wittm.
Triticum aestivum L.
Zea mays L.
breeding
crop improvement
crop plants
genetics
maize
plant breeding
wheat
Bibliographic information
DOI

https://doi.org/10.1007/978-94-017-1293-4

Copyright Information

Springer Science+Business Media B.V. 2003

Publisher Name

Springer, Dordrecht

eBook Packages

Springer Book Archive

Print ISBN

978-90-481-6393-9

Online ISBN

978-94-017-1293-4
Industry Sectors