Space Technology Export Controls and International Cooperation in Outer Space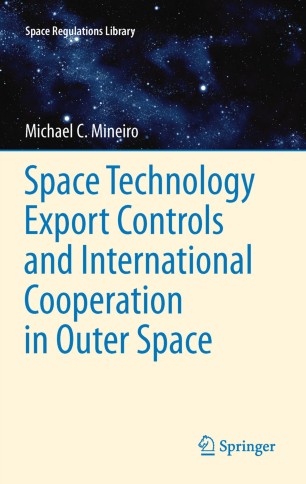 Table of contents
About this book
Introduction
Export controls definitively impact international cooperation in outer space. Civil and commercial space actors that engage in international endeavors must comply with space technology export controls. In the general discourse, members of the civil and commercial space community have an understanding of their domestic export control regime. However, a careful reading of the literature on space technology export controls reveals that certain questions relevant to international engagements have not been identified or answered.
What is the legal-political origin of space technology export controls? How do they relate to the current international legal structure? What steps can be taken to evolve our current unilateral paradigm of space technology within the context of peaceful exploration and use of outer space?
In this book, these and other relevant questions on space technology export controls are identified and assessed through an insightful case-study of the U.S. commercial communication export control regime. The findings of this case-study are used in an international legal-political analysis of international space law, public international law, and international cooperation. Breaking new ground in international legal theory, a self-justified security dilemma that is manifest in international law is identified and explained as the origin for the current paradigm of space technology export controls.
Keywords
Analysis of ITAR and EAR Regulations
Arms Controls, Disarmament and Proliferation
Arms Export Control Act of 1976
Economic Impact of the China Launch Boycott
Enhancement of Global Civil Security
Export Administration Act of 1979
Export Controls and Satellite Launches
Future of Space Goods and Technologies
Global Climate Change
ITAR
International Cooperation in Outer Space
International Law and Space Technology Controls
International Traffic in Arms Regulation
MTCR & Hague Code of Conduct
National Export Controls
Outer Space Arms Control
Outer Space and International Peace and Security
Outer Space as the Common Interest of Mankind
Policy, Economic, and Techno Globalization
Security and International Cooperation
Space Goods and Technologies
Space Technology Trade and Proliferation Controls
Strategic Military and Intelligence Characteristics
U.N. Security Council Resolutions
U.S Comsat Export Controls
U.S.-E.U. Comsat Regulatory Divergence
Wassenaar Arrangement
World Space Organization
Bibliographic information
DOI

https://doi.org/10.1007/978-94-007-2567-6

Copyright Information

Springer Science+Business Media B.V. 2012

Publisher Name

Springer, Dordrecht

eBook Packages

Humanities, Social Sciences and Law

Print ISBN

978-94-007-2566-9

Online ISBN

978-94-007-2567-6
Industry Sectors