Lignocellulose Conversion
Enzymatic and Microbial Tools for Bioethanol Production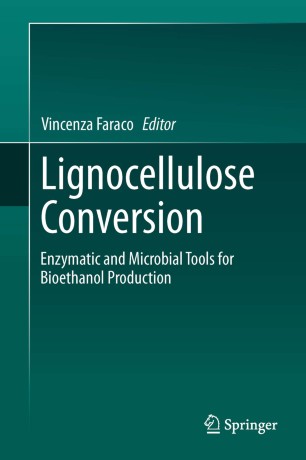 About this book
Introduction
Lignocellulose conversion stands out as a key process for the sustainable production of renewable fuels and chemicals. The use of lignocellulosic materials for second generation ethanol production makes it possible to minimize the conflict between land use for food (and feed) and energy production. The lignocellulosic raw materials are less expensive and they present a more even geographical distribution than does conventional agricultural feedstock. Residual biomass such as agro-industrial wastes, agricultural and forest crop residues and the organic and paper fractions of municipal solid waste make up a large percentage of lignocelluloses. Moreover, second generation ethanol production and use show lower greenhouse gas emissions than the first generation fuels, reducing environmental impacts, particularly in terms of climate change.
Lignocellulose conversion into ethanol commonly involves a pretreatment to remove the barrier of lignin and expose plant cell wall polysaccharides, enzymatic saccharification of sugars with a cocktail of cellulolytic and hemicellulolytic enzymes, and fermentation of the sugars with ethanologenic microorganisms. The commercialization of the process to produce cellulosic ethanol is still limited due to the high costs of current technologies, above all the (hemi)cellulolytic enzymes required to hydrolyze the polysaccharides. The enzymatic hydrolysis may take place in a separate step followed by fermentation called separate hydrolysis and fermentation, or it may take place together with the fermentation in a simultaneous saccharification and fermentation of hexoses process or simultaneous saccharification and co-fermentation of both hexoses and pentoses. The ultimate objective is one-step consolidated bioprocessing of lignocellulose into bioethanol, in which all the steps take place in a single reactor where a single micro-organism or microbial consortium converts pre-treated biomass into ethanol.
This book presents the main tools, the current technological developments and future prospects in cellulosic ethanol production and research.
Keywords
bioethanol
biofuels
cellulosic ethanol
enzymatic hydrolysis
lignocellulose conversion
lignocellulosic biomass
Bibliographic information
DOI

https://doi.org/10.1007/978-3-642-37861-4

Copyright Information

Springer-Verlag Berlin Heidelberg 2013

Publisher Name

Springer, Berlin, Heidelberg

eBook Packages

Biomedical and Life Sciences

Print ISBN

978-3-642-37860-7

Online ISBN

978-3-642-37861-4
Industry Sectors