© 2021
The Palgrave Handbook of Co-Production of Public Services and Outcomes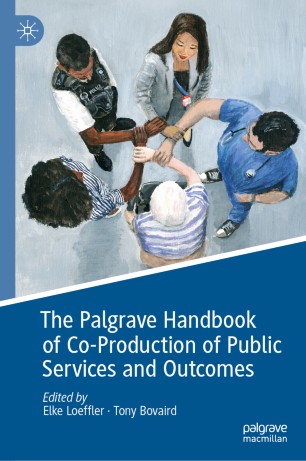 Table of contents
About this book
Introduction
This Handbook provides a comprehensive and authoritative account of the movement towards co-production of public services and outcomes, a topic which has recently become one of the most intensely debated in public management and administration, both in practice and in the academic literature. It explores in depth the processes of co-commissioning, co-design, co-delivery and co-assessment as major approaches to co-production through citizen voice and citizen action and as key mechanisms in the co-creation of public value. The key debates in the field are fully explored in chapters from over 50 eminent authors in the field, who examine the roots of co-production in the social sciences, the growth of co-production in policy and practice, its implementation and management in the public domain, and its governance, including its negative aspects (the 'dark side' of co-production). A final section discusses different aspects of the future research agenda for co-production.
Elke Loeffler is Senior Lecturer at the University of Strathclyde, Scotland, and Director of the non-profit organization Governance International.

Tony Bovaird is Emeritus Professor of Public Management and Policy at the University of Birmingham, UK, and Chief Executive of Governance International.
Keywords
Co-production
Public services
Public value
Citizens
Consumers
Third Sector
Community development
Public law
Deliberative democracy
Personalisation
Personal health budgets
Co-commissioning
Healthcare services
Social innovation
Digital technologies
Leadership
Risk
Governance
Stakeholders
Experimental methods
Bibliographic information