© 2001
Soft Mechanochemical Synthesis
A Basics for New Chemical Technologies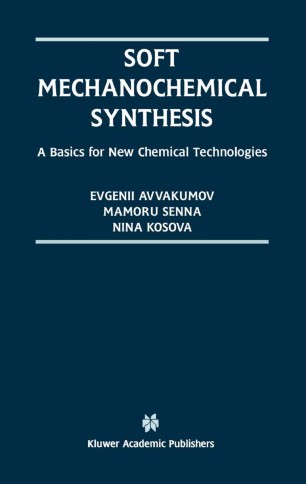 About this book
Introduction
Mechanical methods of the activation of chemical processes are currently widely used for the synthesis of various compounds. The present monograph deals with the development of a novel approach to mechanochemical synthesis based on reactions of solid acids, bases, hydrated compounds, crystal hydrates, basic and acidic salts. This method has been called soft mechanochemical synthesis.
The monograph includes the papers published by the present authors. They describe the results of their investigations n the last two decades. New theoretical and experimental data on kinetics and mechanism of soft mechanochemical reactions in the mixtures of compounds mentioned above to give complex oxide compounds are presented. The description of new high energetic and high efficient mills providing effective occurrence of these reactions is delivered. The possibilities of applying soft mechanochemical synthesis for materials used in catalysts, material science, electronics, etc., are discussed. The advantages of the method proposed in comparison with other methods are demonstrated.
The monograph is designed for researchers, engineers and technicians engaged in chemical and ceramic industry, for scientists and students specialized in the area of development, and application of new materials.
Keywords
Chemical reaction
crystal
electronics
materials
mechanisms
Bibliographic information