© 1999
Modern Aspects of Electrochemistry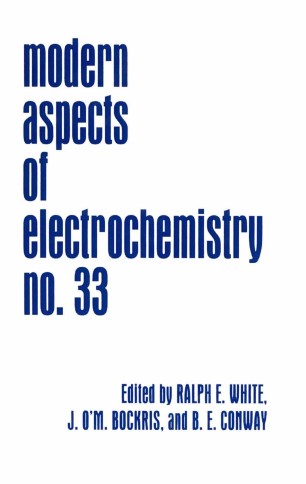 About this book
Introduction
Recognized experts present incisive analysis of both fundamental and applied problems in this continuation of a highly acclaimed series. Topics discussed include:
A review of the literature on the potential-of-zero charge by Trasatti and Lust.
A thorough review and discussion of nonequilibrium fluctuations in corrosion processes.
A wide-ranging discussion of conducting polymers, electrochemistry, and biomimicking processes.
Microwave (photo)electrochemistry, from its origins to today's research opportunities, including its relation to electrochemistry.
New fluorine cell design, from model development through preliminary engineering modeling, laboratory tests, and pilot plant tests.
A comprehensive account of the major and rapidly developing field of the electrochemistry of electronically conducting polymers and their applications.
These authoritative studies will be invaluable for researchers in engineering, electrochemistry, analytical chemistry, materials science, physical chemistry, and corrosion science.
Keywords
Analytical Chemistry
chemistry
corrosion
electrochemistry
materials science
polymer
Bibliographic information