© 2002
Modern Aspects of Electrochemistry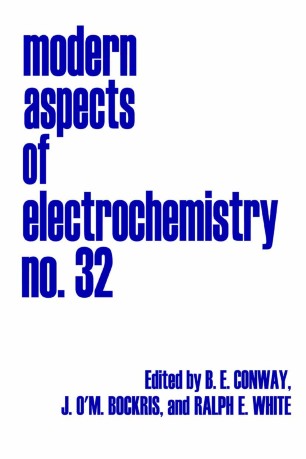 About this book
Introduction
Recognized experts present incisive analysis of both fundamental and applied problems in this continuation of a highly acclaimed series.
Topics discussed include:
A thorough and mathematical treatment of periodic phenomena, with consideration of new theories about the transition between `order' and `chaos';
Impedance spectroscopy as applied to the study of kinetics and mechanisms of electrode processes;
The use of stoichiometric numbers in mechanism analysis;
The electro-osmotic dewatering of clays with important implications for the processing of industrial waste and geotechnical; stabilization;
Magnetic effects in electrolytic processes and the electrolytic Hall effect; and
The computer analysis and modeling of mass transfer and fluid flow.
These authoritative studies will be invaluable for researchers in engineering, electrochemistry, analytical chemistry, materials science, physical chemistry, and corrosion science.
Keywords
Analytical Chemistry
chemistry
corrosion
electrochemistry
materials science
spectroscopy
Bibliographic information