Mycobacterium Tuberculosis: Molecular Infection Biology, Pathogenesis, Diagnostics and New Interventions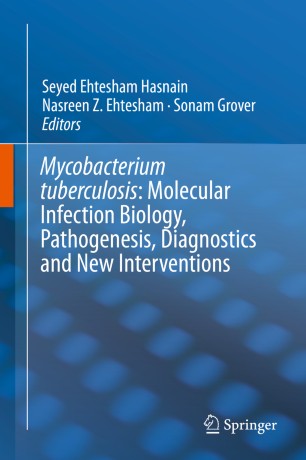 Table of contents
About this book
Introduction
This book reviews recent advances in the molecular and infection biology, pathology, and molecular epidemiology of Mycobacterium tuberculosis, as well as the identification and validation of novel molecular drug targets for the treatment of this mycobacterial disease.
Despite being completely curable, tuberculosis is still one of the leading global causes of death. M. tuberculosis, the causative organism – one of the smartest pathogens known – adopts highly intelligent strategies for survival and pathogenesis.
Presenting a wealth of information on the molecular infection biology of M. tuberculosis, as well as nontuberculous mycobacteria (NTM), the book provides an overview of the functional role of the PE/PPE group of proteins, which is exclusive to the genus Mycobacteria, of host-pathogen interactions, and virulence. It also explores the pathogenesis of the infection, pathology, epidemiology, and diagnosis of NTM. Finally it discusses current and novel approaches in vaccine development against tuberculosis, including the role of nanotechnology.
With state-of-the-art contributions from experts in the respective domains, this book is an informative resource for practitioners as well as medical postgraduate students and researchers.

Keywords
Mycobacterium tuberculosis
Virulence and pathogenesis
Mesenchymal stem cells
Host pathogen interactions
Nontuberculous mycobacteria
Bibliographic information