Lobsters: Biology, Fisheries and Aquaculture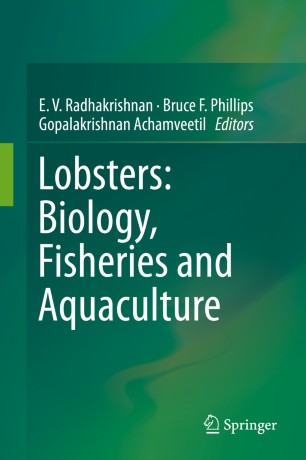 About this book
Introduction
This book is an important addition to the knowledge of lobster research. The book complements other books published on lobster research and management as it focuses on Indian lobster fisheries and aquaculture developments where there have been nearly 350 research papers and reports and 19 PhD awards. The book has 15 chapters written by international experts covering many aspects of the biology of a number of spiny and slipper lobster species occurring in India and world oceans with maps illustrating global distribution of spiny lobster families, genera and species. An updated taxonomy and checklist of marine lobsters, the status and management of lobster fisheries in India and Indian Ocean Rim countries and a review of aquaculture research in India and other major countries have also been presented.
The book is timely as the 2nd International Indian Ocean Expedition (IIOE) is currently underway (2015-2020), 50 years after the original IIOE (1959-1965), with some of the original lobster research on the biology and distribution of phyllosoma larvae being undertaken on the plankton samples collected during the first IIOE.
Many of the chapters are contributed by the authors from Central Marine Fisheries Research Institute (CMFRI), which has been collecting fishery and biological data on lobsters since 1950 when lobster fishing began on a subsistence scale, followed by some industrial fishing for lobsters in different parts of India. Unfortunately, the development of some of these lobster fisheries was followed by overfishing due to lack of enforcement of regulations. The book provides a valuable addition to our knowledge of the biology, fisheries and aquaculture of spiny and slipper lobsters.
Keywords
Spiny lobster
Fishery
Molting
Breeding
Aquaculture
Bibliographic information