Endangered Species and Fragile Ecosystems in the South China Sea
The Philippines v. China Arbitration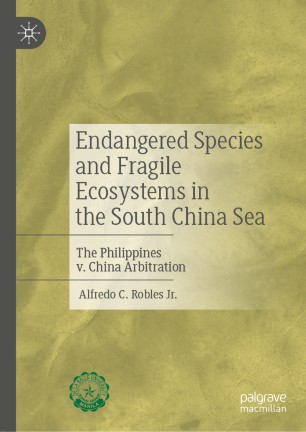 About this book
Introduction
This book presents an in-depth analysis of the environmental issues raised in the South China Sea Arbitration Award, which have not attracted as much attention in the Philippines as the "nine-dash line". Specifically it focuses on the conservation of endangered species and the conservation of fragile ecosystems in the South China Sea.
The aims of the book are two-fold. First, it seeks to explain the Philippine perspective on the environmental aspects of its dispute with China. The book reconstructs the Philippine perspective in part by consulting several dozens of the hundreds of documents that the Philippines submitted to the Tribunal. Some of these documents were classified as secret and would thus have never been made available to the public had it not been for the arbitration. Second, it attempts to explain the decisions of the Tribunal on jurisdiction and admissibility as well as the decisions on the merits of the dispute. The book does this by consulting not only the two Awards but also the hundreds of pages of transcripts, expert reports, supplemental submissions and written responses by the Philippines to questions posed by the Tribunal.
Alfredo C. Robles, Jr. is a University Fellow at De La Salle University, Philippines. He holds doctorate degrees from the Université Paris 1 (Panthéon-Sorbonne), France and Syracuse University, USA. He is the author of French Theories of Regulation and Conceptions of the International Division of Labour (1994), The Political Economy of Interregional Relations: ASEAN and the EU (2004), The Asia-Europe Meeting: The Theory and Practice of Interregionalism (2008), and The South China Sea Arbitration: Understanding the Awards and Debating with China (2018).
Keywords
Endangered Species in the South China Sea
Fragile Ecosystems in the South China Sea
The Ecological Roles of Sea Turtles
The Economic Importance of Sea Turtles
The Ecological Roles of Coral Reefs
The Economic Importance of Coral Reefs
Military Activities and China's Island-building
Law Enforcement Activities and China's Island-building
Due Diligence Obligations of the Chinese State
Island-Building by the Chinese State
Cyanide and Dynamite Fishing by Chinese Nationals
Philippines and the South China Sea
Philippines and Marine Life
Bibliographic information