© 2019
Biodiesel: Feedstocks, Technologies, Economics and Barriers
Assessment of Environmental Impact in Producing and Using Chains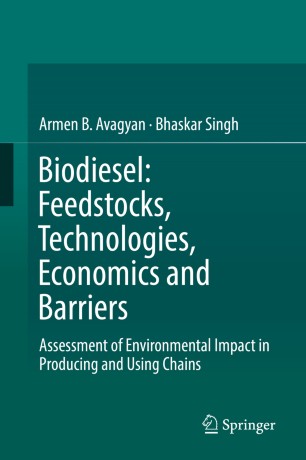 Table of contents
About this book
Introduction
Air pollution policy is closely connected with climate change, public health, energy, transport, trade, and agriculture, and generally speaking, the Earth has been pushed to the brink and the damage is becoming increasingly obvious. The transport sector remains a foremost source of air pollutants – a fact that has stimulated the production of biofuels. This book focuses on the biodiesel industry, and proposes a modification of the entire manufacturing chain that would pave the way for further improvements.
Oil derived from oilseed plantations/crops is the most commonly used feedstock for the production of biodiesel. At the same time, the UK's Royal Academy of Engineering and 178 scientists in the Netherlands have determined that some biofuels, such as diesel produced from food crops, have led to more emissions than those produced by fossil fuels. Accordingly, this book re-evaluates the full cycle of biodiesel production in order to help find optimal solutions. It confirms that the production and use of fertilizers for the cultivation of crop feedstocks generate considerably more GHG emissions compared to the mitigation achieved by using biodiesel. To address this fertilization challenge, projecting future biofuel development requires a scenario in which producers shift to an organic agriculture approach that includes the use of microalgae.

Among advanced biofuels, algae's advantages as a feedstock include the highest conversion of solar energy, and the ability to absorb CO2 and pollutants; as such, it is the better choice for future fuels. With regard to the question of why algae's benefits have not been capitalized on for biofuel production, our analyses indicate that the sole main barrier to realizing algae's biofuel potential is ineffective international and governmental policies, which create difficulties in reconciling the goals of economic development and environmental protection.
Keywords
Biodiesel
Biofuels
EROEI
LCA
Marketability
Bibliographic information